The only thing you need to know about branding: it's a slow journey.
Once you start a business, you need to understand there will be no immediate results. It's like watching a series season by season: years may go by before your business turns into a brand. And the moment will come when you feel exhausted and want to give up, but the question is:
Download Branding Resources Guide
Building a brand starts by having the right tools and advice. Download our top 10 essential tools and resources to kick-start your branding.
Will you?
You look at Coca-Cola, Nike, McDonald's… Okay, not to put too fine a point on it, even PornHub has become a brand already! (Did you see their marketing campaigns? Traditional ads can't hold a candle to them.) And you think, "Well, they are giants. And I am a small business owner. How can I compete with those big dogs and make my little one a brand? Do I need to do it, after all?"
But first things first:
What's a brand?
According to Wikipedia, it's "a name, term, design, symbol, or other feature that distinguishes an organization or product from its rivals in the eyes of the customer." And, speaking about branding, it's "a set of marketing and communication methods that help to distinguish a company or products from competitors, aiming to create a lasting impression in the minds of customers."
Ouch! Sounds too general, doesn't it?
Equity is what makes your business a brand, and it bases on three keystones:
Knowledge: "What do consumers know about my product/service?"
Experience: "What do they say after using my product/service?"
Differentiation: "What makes my product/service different from competitors'? Isn't it copied or plagiarized?"
Branding is not about products but missions, big ideas, and values. It's about long-term relationship with your customers.
Let's take Starbucks by way of example: when they started, they didn't put a coffee at the top of their priorities; they wanted to become the third place – between home and office – for every person to visit. It's about values, not products or sales. And today we all know that Starbucks is not about coffee but emotions, engagement, and experience it gives to consumers.
"So what?" you ask.
To develop an efficient brand strategy for your small business, you need to consider a big idea behind what you do as well as three mainstays that will differentiate you from competitors:
Visual system
Verbal system
PUEX (product usage experience)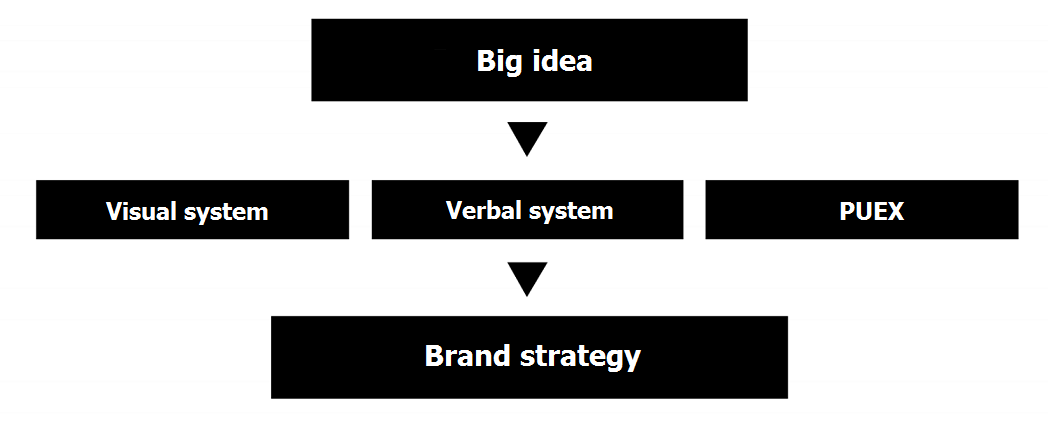 1) Visual System
People are 90% visual beings, so they need images to associate with your brand. Just look at the picture: you don't need words to recognize brands in it, do you?

Takeaway: Think of a cool logo and visual attributes (fonts, colors, illustrations, image compositions) for your brand.
How to choose a great logo for your brand?
First, decide on the type. Will your logo be a graphical sign (like Shell), graphical block (like Total), or lettering (like Coca-Cola)? Then, consider colors and size. Looking great in billboard advertising, your logo might fail in zoom; and looking great when multicolor, it might fail in black. Make sure it looks terrific and figurable, no matter what.
As for attributes of your brand, there's one thing to remember: NEVER use your logo as a visual code. Think of details to influence consumers' engagement and experience at three stages of their communication with your brand: before, during, and after. The visual code of your brand may be illustrations or the combination of particular fonts and compositions.
Where to use visual system for people to remember your brand?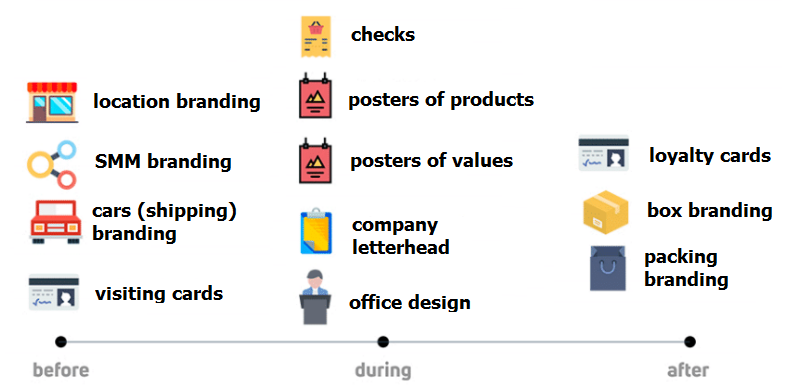 2) Verbal System
To communicate a message and influence decision-making, you need to develop a verbal differentiation of your brand. Naming, slogans, roles your small business undertakes, tone it uses, and promises it makes to translate this information to consumers – these all are a big part of a brand strategy for you to take into consideration.
Choosing your brand name:
Make sure it has an ideological element, meaning, and flow of sound. It should be easy for people to pronounce and remember, it needs to be phonetically pleasing, and it should be one-of-a-kind.
Also, there should be a story behind your brand name. What's the role of your brand? Is it a creator, a master, or an evangelist? You need to think about a core message to communicate with your business, choose a corresponding tone to send this message, and decide on promises your brand could give to solve a problem.
Choosing your slogan:
According to Entrepreneur's  small business encyclopedia, slogans are a "small group of words that are combined in a special way to identify a product or company." In other words, it's a mini-statement of your brand's mission, and they work great for advertising and verbal representation of your business.
Here go some slogans by way of example:
What do they all have in common?
They all impact positive feelings about a brand, they are short and memorable, they include a benefit, and they differentiate a brand from others. Keep these peculiarities in mind when coming up with the slogan ideas for your small business. A strategically thought-out verbal representation is crucial for engagement and emotions people experience when communicating with your brand.
3) PUEX
In plain English, it's a creative performance of your brand aka tiny pleasant details that make it memorable, encouraging people to talk about it. It's about giving more than a product or service itself; and it's about what happens with a person while using your product or service.
What can it be?
Creative content users with generate themselves. (As far as the world is one big instabox these days, photos and shares are guaranteed. A palmary example is Starbucks' "Give good" campaign for this holiday season.)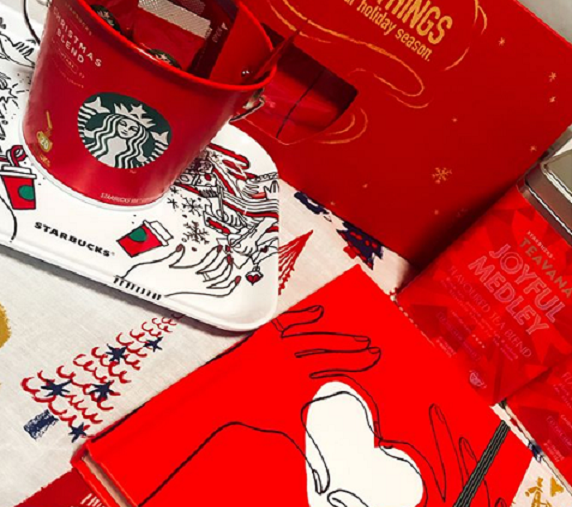 Appealing stories. (For instance, in SPLAT's every package there's a personal letter from CEO, written for every customer.)

Think of what may be PUEX for your small business to differentiate it from competitors. Think of what your brand may give consumers besides high-quality services.
Remember about the psychology of marketing, learn how a human brain works and makes decisions, consider insights, and speak the same language to your audience. Solve their problem as no one else does, and they will thank you with loyalty and love.
The last but not least…
Create stories, appeal to emotions, make every moment worth remembering, and think of your brand equity rather than monetary profits. Be patient, learn to wait, and polish every step you take to a better brand strategy. Do it well, because mediocre is what many marketers do. But you don't want to be one of those many, do you?
Lesley Vos is a seasoned web writer and content strategist, specializing in text building, distribution, and promotion. Blogging for PlagiarismCheck.org, she also contributes expert articles to publications on business, branding, and self-development. Feel free to get in touch on LinkedIn.