Clicking on Facebook, your email, Buzzfeed and then back to Facebook gets old. It's a modernized version of Albert Einstein's definition of insanity. Refreshing the same pages on a continuous loop expecting an update is an act of workplace futility that few can survive. Eventually boredom sets in. Before you start to go loco with ennui, it's time to add Twitter to your list of websites. The only problem is that there are 100 million daily active users and most of them aren't worth a follow. Lucky for you, this list can direct you to an unusual but great source of entertainment during your work day: corporate twitter.
Corporate isn't always a sad and desolate place. These seven corporate accounts find a time to be funny in between slinging their wares and keeping their hashtag game strong.
1. Old Spice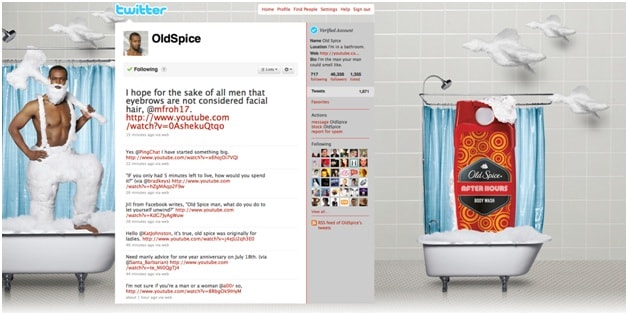 It's not just your grandpa's cologne anymore. In an explosive social media campaign that included TV commercials, online videos, and its Twitter page, Old Space has catapulted itself into the 21st century as a brand to follow. Best known for its surreal viral commercials featuring former NFL athlete Isaiah Mustafa, Old Spice managed to capture the fun and fantastical branding in all its social media accounts. To use its own words taken from its bio, @OldSpice delivers on MUSCLES. SMELLS. LAZERS. COUPONS. GIFS.
Download Branding Resources Guide
Building a brand starts by having the right tools and advice. Download our top 10 essential tools and resources to kick-start your branding.
Most notable tweet?
Not content to stay in its lane, @OldSpice took a break from its regularly scheduled content to chirp at Taco Bell. It took umbrage that Taco Bell's fire sauce didn't contain the actual fire, claiming it was false advertisement. What followed incited a Twitter "war" between the two brands. The exchange was worthy of a chuckle for those scrolling through Twitter in the hopes of wasting some time at work.
2. Denny's

Whoever runs Denny's social media has tapped into the uncanny atmosphere its restaurants have around 4 am on a Saturday night. Usually bizarre and always funny, the Denny's Twitter is an irreverent page devoted to pancakes, syrup, and the dankest memes this side of the web. Half digital marketing, half shit post generator, @DennysDinerrevolutionized the chain's online presence. With 448,000 followers (one of whom, most recently, is the always meme-able band, Smash Mouth), the brand established its cultural relevance within the youngest Millennials and Generation Z.
Most notable tweet?
@DennysDiner created its own version of the Zoom in on the Nose meme with a picture of what looks like a stack of pancakes. Completely normal for a diner that serves up breakfast foods 24/7, but the punchline isn't what you would expect from the diner chain. Or maybe it is if you spend any time on their Twitter. Click here to see what secret Denny's hid in its pic.
3. dbrand

Graduating from the class of under 500k followers, we move to the big leagues with a company that's broken its first million followers. With 1.36 million followers and counting, @dbrand is the next corporate handle you have to check out. Run by @robot, dbrand's social media page is the only bot you'll want to follow you. Too bad that will never happen, considering @dbrand doesn't care about us, foolish humans. When it's not making made-to-measure decals for the hottest devices (what the company calls skins), it's carving out a presence online with its punchy, glib, and tongue-in-cheek posts that serve The Truth™ with a side of humor.
Most notable tweet?
Last March, Nintendo released its Switch console, and dbrand was quick to create a set of Switch skins for the system that its loyal followers could pre-order. Unfortunately, within a few days of its release, the skin provider realized its adhesive didn't play nice with the console. As a result, they posted a series of tweets to explain the situation and notify its customers all pre-orders were canceled and refunded. Despite what @robot has to say about the human race, this good guy move proves dbrand's worth a follow.
4. Wendy's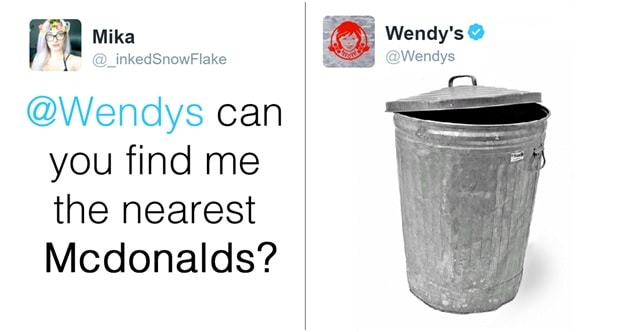 Don't let Wendy's profile pic fool you. That sweet grin and pigtails hide a sharp tongue that's ready to lash anyone it finds lacking. After a long time spent answering complaints with sincere apologies towing the customer service line, @Wendy's lost all its chill. Patience snapped, the social media team revealed a quick and biting wit they were willing to unleash at a moment's notice, dragging Twitter's worst. Its 2.46 million followers await the next roast, usually at the cost of @MacDonalds as @Wendys insults, incites, and antagonizes its rival hamburger chain almost daily.
Most notable tweet?
Though Wendy's serves up roasts with a side of fries, perhaps the most savage one was when a Twitter user accused the fast-food chain of delivering its burgers raw on a hot truck. @Wendy's took no time at all to respond, dragging its accuser by implying they forgot refrigerators existed.
So the next time the post-lunch boredom hits your workday, open a new tab and follow these accounts. It might not solve the fact you're working doing something you hate, but the best of corporate Twitter might make your corporate time go by faster.