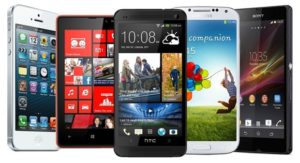 While smart phones are – for many – an almost indispensable part of life, not everyone necessarily needs or wants a smart phone. For many that grew up without smart phones, the additional features and some of the drawbacks – like how often they need to be recharged, not to mention the cost of data plans – may make them actually undesirable for some people. Here is a list of 5 Cell Phones ranging from the highest of the high tech to the easiest, basic and most user friendly of all cell phones.
1. iPhone 7
The iPhone 7 could easily be considered the Rolls-Royce of cell phones. From security options like a thumbprint scanner which unlocks the phone and the ability to remotely wipe all content from the phone in case of it being lost or stolen to features like the Siri digital assistant, iPhones have been and continue to be the leader in high end smart phones. Like everything else in life, however, you get what you pay for. All those features come complete with a price tag to match, with the lowest priced model starting at $650.
Download Branding Resources Guide
Building a brand starts by having the right tools and advice. Download our top 10 essential tools and resources to kick-start your branding.
2. Samsung Galaxy On5
For a wide range of smart phone features without the giant price tag, Samsung offers the Galaxy On5 for just around $100. The Galaxy On5 is an Android phone with apps available from the Google Play store. The On5 offers an HD display, a simplified user interface and a 5 MP camera. The Galaxy On5 is a great phone for people who want a few basic smart phone features – like maps or the ability to check their bank account on the go – without all the bells and whistles (and price tags) of some higher end smart phones.
3. LG Rumor Reflex
For people that just don't want a smart phone at all, LG offers a hybrid phone that offers a few smart phone features, like a touch screen and 2 MP camera and combines it with the best pre-smart phone features like a slide out QWERTY keyboard. The Reflex is only available for Sprint customers, however, so ATT&T customers might want to try the Swift or the Renue from Pantech or the LG Xpression.
4. Kyocera Dura XT
For adventurers with an active lifestyle that just need a basic phone, the DuraXT is a perfect fit. The DuraXT is built to military grade specifications and designed to withstand dust, shock, vibration and weather and temperature extremes. A non-slip rubber exterior provides superior grip in all conditions and added durability. If you like the idea of a flip-phone but don't plan on having a Survivor adventure any time soon, the ZTE Cymbal Z-320 is both easy to use and easy on your wallet, but still packed with features. It offers a 2MP camera, a large interior screen for web, text and multimedia messaging, and Bluetooth® 4.0 wireless for all your devices.
5. Jitterbug Cell Phone
If you want a phone without a lot of annoying and distracting bells, whistles and features, then the Jitterbug cell phone is for you. Featuring large easy-to-read keys and voice dial, you can either dial the number yourself or simply tell your phone who you want to call. The Jitterbug also features a bright, high-contrast color screen which makes it easy to see exactly what numbers you are dialing. No more fumbling around with a tiny keypad, trying to figure out if you just hit the right number or not. Best of all, the Jitterbug offers a number of affordable plans that start from as low as $14.99 a month.