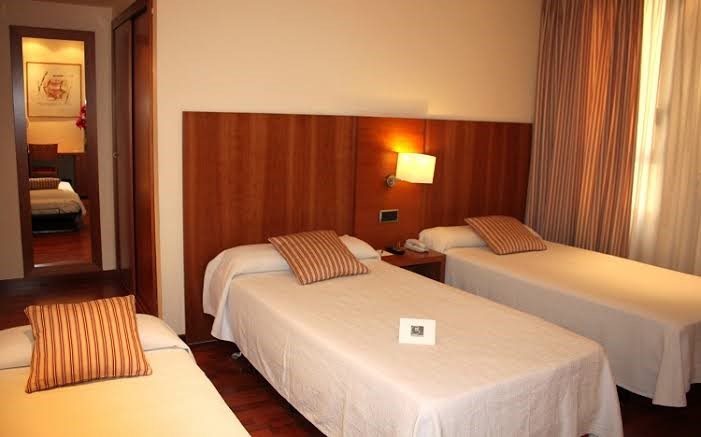 Find out how hotel properties can benefit from better lighting design including lighting control systems and transitional lights
In the hospitality industry, the guest experience is paramount. From the second a guest walks through the front doors of a hotel, they should have their needs met at all times. Since hotels are such busy atmospheres, it can be difficult to discern the impact of lighting design on the guest experience. In reality, lighting is one of the most important aspects of hotel design. From the lobby to the guest rooms, every area of the property should be lit in an appropriate, safe, and appealing way. In fact, good lighting can actually boost a guest's mood upon arrival—it is that powerful!
To give you a bit of guidance as to what hotels should prioritize in terms of lighting, we're going over some modern lighting design ideas & trends. We hope that our examples help you identify ways to improve your property from a design, building management, and guest experience perspective. Plus, we'll be taking an in-depth look at how commercial control systems provide superior outputs for your customers. Let's get started and discover how hotels can use lighting principles to enhance their service and ambiance.
1. Lighting Control Systems For Common Areas and Guest Rooms
These days, it is easier than ever for hotels to implement lighting control systems for adaptive fixtures
Lighting control creates more comfortable guest rooms.
Some of the greatest recent innovations in the lighting industry are thanks to lighting control systems. Many large properties will already have lighting control systems that are used to control lights in ballrooms for special events or potentially even outdoor lighting packages to create an appealing facade. Today, we are going to be talking about how lighting control systems work in common areas and guest rooms. 
As we mentioned, lighting can change a guest's mood as they enter the property. So, in order to provide the best possible guest experience, you should provide the ideal amount of lighting. Since outdoor light changes throughout the day, implementing adaptive lighting is the only way to ensure that guests are always receiving the right amount of light in the hotel lobby and other common areas.
It is also beneficial to make sure that guests are getting the best lighting in their rooms as well. While guests still need to be able to control the brightness of their room light, hotels can use adaptive lighting to change the hue slightly to match a natural circadian rhythm. Simply put, when guests have the right kind of lighting brightness and hue, they'll be able to fall asleep and stay asleep more easily. 
Luckily for hotel properties, it is easier than ever to introduce adaptive lighting elements without breaking the bank to retrofit every fixture. Hotels can achieve these adaptive lighting concepts through the Internet of Things (IoT). 
An Internet of Things is a type of lighting control system that relies on WiFi connectivity to communicate between devices. In the cases we've just discussed, the two devices required are a light sensor and the light fixture itself. This is sometimes referred to as "smart lighting." Communicating via the control system, the sensors instruct the lights on how to change and respond to natural lights. Using this technology, hotels can ensure that guests are getting the best lighting possible everywhere on the property.
2. Prioritize Natural Light
Use natural lighting as much as possible to integrate your property with its environment
Skylights are an excellent way to provide natural lighting for hotel lobbies.
When we spend too much time indoors, it tends to affect our mood. Going too long without natural sunlight makes anyone feel stressed, irritable, and impatient. This is especially true for travelers arriving in a hotel lobby. Your guests have likely been cooped up in a car or an airplane for the majority of their day. To combat stress caused by travel, we recommend that hotels use as much natural light as possible on their property.
Using large windows for natural light also helps tell the story of your property by showcasing the surrounding area. Whether your property is located at a tropical destination, a bustling downtown, or in a rural area, visitors will want to take a look around. By giving your guests opportunities to take in the surrounding area, they can essentially start exploring while they are in your lobby. Not to mention, the more there is for guests to view, the more time they are willing to spend in your lobby in the case of longer than normal wait times.
3. Match Lighting to Ceiling Height
When choosing lighting fixtures for common areas or rooms, make sure you are taking the ceiling height into account
Lower ceilings require recessed lighting.
Lighting design principles change based on the size of a room on your property. Essentially, your lighting design should be altered room by room based on the size and the design of the room. When planning out a lighting redesign, one of the most common mistakes made is not taking the ceiling height and composition into account. For example, if you have a large space with an exposed loft-style ceiling, you will need to choose bulbs and fixtures that are optimized to fill a room with light—including the ceiling above. For rooms like these—conference rooms, for example—you may want to use bay style lighting to properly light the room.
On the other hand, for a smaller room with a finished, plaster ceiling, it should absolutely not be lit with bay lights. For smaller rooms, recessed lights will be able to light a room properly without overlighting or influencing the room design too much.
4. Plan Out Transitional Lighting
Transitional lighting is essential to provide a seamless environment for guests
Transitional lighting helps guide the guest from room to room without barriers.
One of the key features of hotel design is the need for rooms with various different purposes. You have the lobby, guest rooms, common areas, conference rooms—and in some cases pools or restaurants. All of these areas will require slightly different lighting profiles. Because all of the areas will have different lighting, it is important that you plan for transitional lighting to avoid having areas be too bright or too dim.
For example, guests who exit a bright lobby and into a dim mood-lit hallway will likely have some difficulty adjusting. To combat this phenomenon, place transitional lights on either side of the entrance from the lobby to the hall. These transitional lights will help the guest's eyes adapt to a change in light more gradually, as opposed to suddenly. This is also true for hotel elevators. If the elevator lighting is different from the guest floor hallway lighting, then transitional lights need to be placed in the elevator bay area to help people adjust as they find their room. 
5. Balance Task Lighting with Decorative Lighting
Hotel lighting design should make a statement, but not if it means compromising task lighting
Design is important—but providing excellent service is more important.
In a lot of hotel lobbies, the lighting acts as both a practical lighting fixture and centerpiece. Chandeliers, fountains, and other fixtures often include lighting elements that add to the ambient light in a hotel lobby. While these are great for adding to the guest experience, it is important that task lighting is prioritized as well. At the front desk, luggage check, and valet stations, there should be ample light for guests and employee communication. These lights are referred to as task lights—which means they are used for an express purpose like completing a job task. By keeping task lighting as a priority in addition to decorative lighting, designers can create fashionable and functional hotel lobby lighting landscapes.
Commercial lighting is not easy when it comes to the hospitality industry. You have to take into account the emotions and motivations of everyone who uses the space—in addition to the architectural elements. We hope that you learned a bit more about how lighting is used in hotels and got a few ideas to improve your own property. While lighting for hospitality is not an exact science, following the design ideas we've presented will help you create seamless lighting for an optimized guest experience.