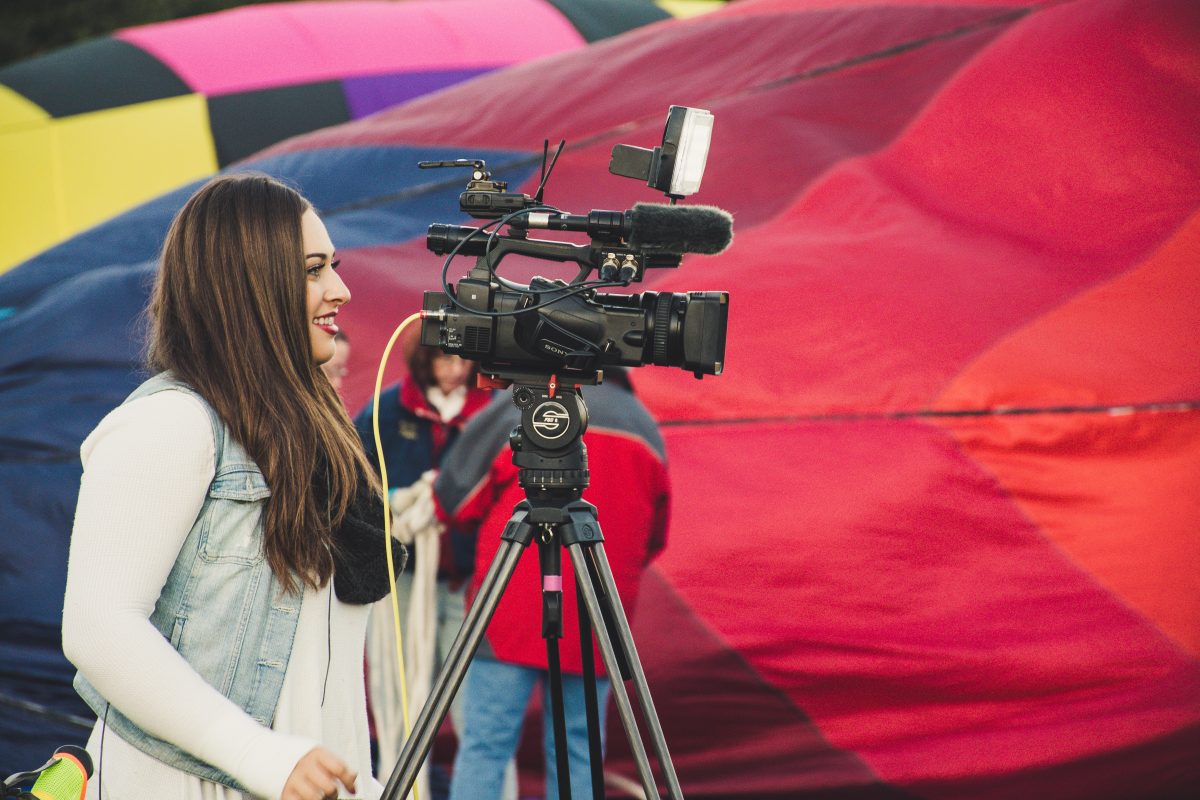 Every day you use your mobile to watch videos that make you laugh, cry or think. Those 15-second videos are an excellent way to have fun, learn and create a conversation, right? But not just that. These videos are also a source of pride for millions worldwide that make a living through them. Have you ever thought about who creates those videos and what it takes to make them? Even better: have you ever considered being the one that creates these pieces of content that impact thousands of people daily?
Video production is a dynamic and exciting field that offers endless opportunities for creative individuals passionate about visual arts and storytelling.
The benefits of working in the video production industry  
Here are some reasons why you should consider a career in video production:
1. Endless opportunities:
The demand for video content is higher than ever. Everyone, from small businesses to large corporations, wants to create video content to promote their products or services. As a result, there are countless opportunities in the video production industry for creative professionals.
2. Lots of different careers:
Video production offers a variety of career paths, including camera operator, video editor, sound designer, director, producer, and more. This diversity of careers means you can find a niche that fits your unique skills and interests, whether you prefer to work behind the scenes or in front of the camera.
3. Creative freedom:
Video production allows you to exercise your creativity and imagination to produce visually stunning content that tells a story. From coming up with a concept to scripting, filming, editing, and post-production, video production gives you the creative freedom you need to express yourself.
4. Diversity of projects:
In video production, you'll have the opportunity to work on a wide range of projects, including commercials, documentaries, music videos, TV shows, and movies. This diversity of projects ensures that your work will never be tedious and that you'll constantly be challenged to learn and grow professionally.
5. Collaborative environment:
This industry requires teamwork and communication to produce high-quality content. As a video producer, you'll work with other creative professionals such as writers, directors, editors, and sound designers to create visually stunning content.
6. Constantly evolving industry:
The industry is continuously changing. You must stay up-to-date with the latest trends and technologies to ensure your work remains relevant and engaging.
In-house vs agency: Choosing your career path in video production  
If you decide to pursue a career in video production, you can work in-house for a company or as part of an agency.
Advantages of working in-house 
One advantage of working in-house is having a more straightforward work routine. You'll be working for one company, so you'll better understand the employer's expectations. Another advantage is that you'll have a better chance of developing a deeper understanding of the company's products, services, and brand. This knowledge can be beneficial when creating video content that accurately represents the organization's vision and values. You'll also have the opportunity to build relationships with other departments within the company, which can help you create better material that meets the business's needs.
Perks of working for an agency 
Working for an agency has many advantages. For example, you'll be exposed to a wide variety of clients and projects. This diversity can help you develop a broader skill set as you'll work on various projects requiring different approaches and techniques. This interaction can also help you build a more extensive professional network, which can be beneficial when looking for new job opportunities.
You'll also enjoy more creative freedom. Agencies often work on projects for multiple clients, making them more open to original and innovative ideas. This creative autonomy can be especially beneficial if you're passionate about storytelling.
Ultimately, deciding whether to work in-house or for an agency will depend on your preferences and career goals. Considering which option will provide the most fulfilling and rewarding career path is essential.
Choosing a professional video agency  
Choosing the right professional video agency to work for is critical to success. A well-run agency can offer you valuable training, mentorship, and opportunities to work on exciting projects to help you grow your skills.
Take, for instance, Sunday Treat, a video agency in London. It's an award-winning video production company that values creativity, innovation, and excellence. The company offers a supportive work environment that encourages employees to take risks and push their limits to create the best possible work.
Sunday Treat understands that video production is more than just creating visually stunning content; it's about telling stories that resonate with the audience and effectively communicate the brand's message and values. The company also believes that the best work is created when people join forces to combine their unique skills and perspectives. As an employee, you'll have the opportunity to collaborate with other talented professionals from different disciplines.
Are you ready to work in video production? Take the time to research different career paths, identify your strengths and interests, and find the right company that aligns with your values and career goals.