The road to branding excellence is littered with cliches, and while there is a time and a place for these overused staples of digital communication, they should be used sparingly and with careful forethought.
As they say, "imitation is the sincerest form of flattery," but when it comes to digital branding, it can definitely go too far.
It doesn't matter if your company sells bespoke products, sources goods from a third party, grows them, blows them up, or consults on technology; when it comes to your branding, following the herd is NOT a good idea.
Here are six of the most overused and overdone cliches of digital marketing, and how to navigate the temptation to use them in your own branding.
Download Branding Resources Guide
Building a brand starts by having the right tools and advice. Download our top 10 essential tools and resources to kick-start your branding.
1. The World's First
Okay, if you really are the first, then you might just be able to get away with this one…
Unfortunately, this phrase is so overused that, even when true, it just comes across as being insincere. And if you decide to use it, you'd better make sure to have done your research.
The internet loves to point out a marketing fail, and if it turns out that your world's first is actually a second or third, you'll either appear silly or dishonest.
This problem is easily avoided through thorough and creative research – there will almost certainly be something more informative and relevant that you can use in place of this tired cliche.
After all, getting somewhere first is not a guarantee of quality, or anything else for that matter…
2. Generic 'Hipster' Logos
Your logo should evoke your brand, and be both distinctive, and recognizable.
A smart font with a colorful accent might look quite professional at a glance, but if it is too generic, it will be forgettable, and easily confused with other brands. There are a ton of 'samey', vaguely 'hipster' logos flooding the market right now: from tech companies to coffeeshops, everyone seems to be doing it! The same aesthetic is being used to sell tea, shorts, software, beard oil, and a plethora of products. But in the end, it's all just one big sea of aesthetic blandness.
You can, and should, do better.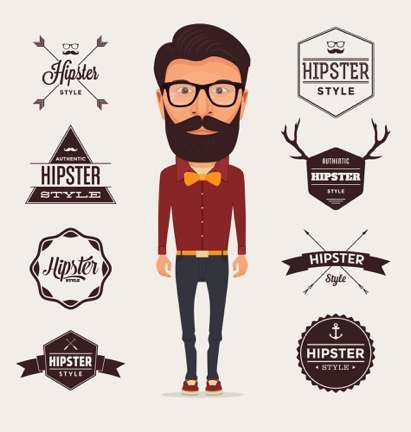 3. Bespoke Next-Level Solutions
All of these things. See how vague that description is? Yet this phrase, with varying synonyms, can be found throughout the digital marketing world.
Yes, you may offer a service that is tailored to the customer, and solves their problem using brand new technology. There is nothing wrong with advertising that.
The problem arises when you give no further details. If someone tried to sell you "next-level" cheese, you'd want to know what made it so special. It's the same thing here: the lack of descriptive words makes the statement sound empty and hollow.
Solutions can hide many sins, so be more specific.
Don't assume that your audience will simply take your claims at face value. Instead, give them some genuine, relevant information that will help them decide whether your service is for them.
4. Shame-Based Copy
Have you ever been to a site that boldly proclaimed you were not a real athlete/book-lover/human being unless you bought their product? Or that tried to niggle at your insecurities before offering the solace of their premium service?
Just don't do that.
You don't need to make your audience feel awful about themselves to convince them to buy your product. The same applies to those annoying CTAs, like those mailing list pop-ups that make you click "No, I'd rather be a failure" in order to get back to what you were reading.
You should be able to sell your product or service on its merits, convincing your audience that whatever their life is like, you will make it even better.
While there's nothing wrong with a little humor at the expense of your audience, shaming and diminishing your customers with is just not cool.
5. Awful Brand Videos
There are plenty of examples of video marketing gone wrong, and you don't want your brand to be added to the long list of painful brand videos.
You know the ones; the director of the company delivers a jargon-heavy marketing spiel, while moving through a featureless office space.
It's hard to come across at your best in video content if you're not used to being filmed. But that doesn't mean you should just accept the results and release bad content.
Your audience want to get to know the personality behind the brand, not simply be told things they can read on your website.
In less time than you think, you can create excellent video content that really grabs your audience's attention. Put some personality into your brand marketing and give your customers a glimpse behind the scenes of your business. Don't settle for a stiff showreel.
6. Keep Calm
Sure, it was good while it lasted, but we've seen quite enough of the "Keep Calm And Please Share My Content" offerings.
Of course, if it turns out that your audience still loves that sort of thing, then maybe you can make it work – perhaps your brand lends itself particularly well to the cliche, if you sell carry-on luggage, for example – but there's almost certainly a better option.
Jumping on similar phrase bandwagons can make your brand seem imitative and unoriginal.
Establish your target audience. Then do some in depth research and find out what makes them tick:
If you're selling cars then maybe your audience want to keep going fast, whilst being safe
If you're selling winter clothing then maybe your audience want to keep warm, without sacrificing fashion
If you are selling art supplies then maybe your audience want to keep being creative alongside their busy day jobs.
Whatever it is they want, make sure that's what you give them – not tired phraseology.
Did any of those sound familiar? If so, don't freak out — it doesn't mean you need to go back and rehash all your content. The reason cliches come to being is that for awhile, they worked.
Remember, you don't need to do what works for others, you need to do what works for you. So cut the crap and don't be slack; get into the mindset of your audience so you can represent your brand in a way that both you and they will love.
---
Victoria Greene is a branding expert and freelance writer. On her blog, VictoriaEcommerce, she shares tips on ecommerce, how writers can hone their craft, and how companies can improve their digital reach. She is passionate about using her experience to help brands improve their marketing.