Planning a wedding can be a very stressful task with many things that you absolutely need to know and even more things that you should keep in mind. If the thought of organizing a wedding excites you but also makes you dread the entire experience, here are a few tips from the experts that all couples need to know if they want planning to go as stress-free as possible.
Do the guest list first
Before settling on a venue or contacting vendors, make sure to create a good guest list. This will ensure everyone at your wedding has enough space, including the vendors, servers, and entertainers. Every person needs at least 25 square feet, which might sound like a lot, but will make sense when you include the tables, waiters, the band, and the dancefloor.
Time it well
You might be dreaming of a perfect summer wedding, but is that a good idea if you want to keep things outdoors? Consider the weather when planning your wedding and choose the venue accordingly. The weather can play an important role in your special day because it can affect how your guests will react. It's easy to see why guests might skip out early from your blazing-hot summer outdoor wedding or your freezing winter loft event. If you want to say your vows during sunset, make sure to check sunset calendars to ensure the perfect timing of your ceremony.
Get organized
Don't just keep your wedding things scattered around your home, hoping you'll find what you're looking for in a pinch. This can cause stress to future spouses and make you waste a lot of time digging around for the necessary things. Instead, get a big three-ring binder where you'll keep all the information about vendors, notes from meetings, inspirational photos, vendor offers, etc. It's also smart to get a separate email for the wedding so you can keep all important emails in one easy-to-access place.
Download Branding Resources Guide
Building a brand starts by having the right tools and advice. Download our top 10 essential tools and resources to kick-start your branding.
Have a good tailor at hand
Did you ever have to spend a day in uncomfortable clothing? If yes, then you know just how annoying and stressful it can be to have to constantly worry about your shoulder straps slipping or your suit button popping. To remove this stressful aspect from your wedding, get a good tailor to solve all your wardrobe issues. Guys will love an elegant wedding suit tailor experience where they get to choose a perfect suit and have it made exactly according to their measures and preferences. And if your chosen tailor has a bundle deal for the entire groom's party, take it for sure.
Take people's advice
If you don't want the stress of visiting dozens of different vendors, let one professional lead you to another. Your venue manager definitely knows which photographer knows how to work the room the best, and your photographer knows which vendor has the best flower arrangements.
Ditch things you don't care about
Weddings usually follow a pre-determined formula, which can be very helpful when planning your event. However, make sure to create a personalized wedding that paints an authentic picture of you and your spouse. You don't have to include a novelty cheese-tasting area or a hand-fasting ritual just because your friends opted for them or it states to do so in a guide online. If you don't feel strongly about something at your wedding, it's best to skip it and opt for something that has meaning for you. This will not only make your wedding more personal but also reduce the stress of having to be involved in something you don't care about.
Don't forget to delegate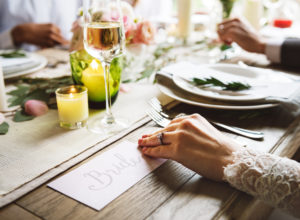 As a matter of fact, your parents, siblings, and close friends probably even expect to have a small task during your wedding, so don't be embarrassed to delegate. However, to reduce stress for everyone involved, choose your helpers wisely. Some will be happy to take on even a bigger project, but it's best to ask first and emphasize that they can say no freely. When you delegate all the tasks, make a list of who's doing what and keep it in your binder.
Always trust your gut
Remember that this day is all about you and not your relatives or friends. There's no need to get caught up in dozens of different things just to impress your guests. You and your partner deserve to have the day that you want, so make sure to always follow your instincts when planning a wedding. If a vendor doesn't fit you and your needs, keep looking until you come across someone who gives you that warm feeling in your tummy. It might sound like a cliché, but listening to your gut is the best advice to take.
Planning a wedding doesn't have to give you insomnia or make you lose your hair. With these tips above, you can have the wedding of your dreams with a minimal amount of stress.