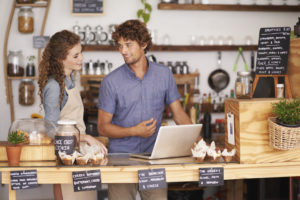 As a small business owner, you face numerous decisions daily. One of the big ones is how you plan to market your business online; will you develop an in-house team or hire a digital marketing agency? Although there are reasons for both approaches, most small businesses benefit from hiring a digital marketing agency. The following are a few of the advantages that approach offers that should be considered before you create a digital marketing plan for your business.
No Training Required
Download Branding Resources Guide
Building a brand starts by having the right tools and advice. Download our top 10 essential tools and resources to kick-start your branding.
Building an in-house team to handle your digital marketing needs takes a lot of time and effort. You must hire and train the staff, then help them stay on top of a constantly changing digital environment. Digital marketers are in high demand, so good digital people are likely to get a better offer elsewhere. High turnover forces you to hire and train people repeatedly, frequently leaving you without a skilled digital marketer. By working with a marketing agency, you have access to qualified people without the need to train them. The marketing agency manages their staff and makes sure they are trained and up-to-date in the field.
You Save Money
People frequently think that hiring a digital marketing agency is more expensive than hiring someone in-house. However, if you have in-house employees handling digital marketing, you will have all the added expenses of additional employees, such as payroll taxes, salaries, and benefits. On top of that, your digital marketing team needs a budget for trying new tactics or buying ads. For most small businesses, it is more efficient and less expense to hire an outside agency for digital marketing.
Expertise
A digital marketing agency has the expertise needed to market your business effectively. Most small businesses can only afford to hire one or two employees for in-house digital marketing, which means you are likely to have less specialized people. By working with an outside agency, you have access to a whole team of experts and specialists who have experience working on digital marketing campaigns and are constantly learning and improving in their specific areas of expertise.
Availability
In-house digital marketing can create a bottleneck in your company because they handle large amounts of intellectual property and often become overloaded. This causes problems when you have tasks that need to get done, but your digital marketer is not available. Vacation, sick days, and employee turnover make the problem worse because your digital marketing employees are out of the office or still in training, resulting in an increasing buildup of tasks. A digital marketing agency is available when you need them and keeps your digital marketing on track.
Outrank Your Competitors
An experienced digital marketing agency like Premier Detroit SEO helps your company outperform your competitors online. An outside agency has the expertise to develop a comprehensive online marketing plan so you can rank higher on search engine results, improve online exposure, and drive more people to your website. They keep track of changes to search engine algorithms and constantly fine tune your site to make sure your online presence stays strong.
Even if you have a brick and mortar establishment, you need to get online. The first step is a website, which most people have. The next step is to make your products and services easily accessible from anywhere. If you're hesitant about selling products by way of the internet, you shouldn't be. Many online tools are available to help you take the hassle out of eCommerce. Inventory management software tracks orders, sales, and inventory so that you don't have to. So, bring your entire business to the web today.
Choosing the digital marketing method for your business is a personal decision. Each business has its own set of needs and may benefit more from one approach or the other. For most small businesses, working with a digital marketing agency gives them significant advantages over hiring an in-house staff. Choosing a marketing agency with experience in your field provides you with a team of experts working on your behalf to optimize your online presence. That kind of advantage makes a vast difference for your business.