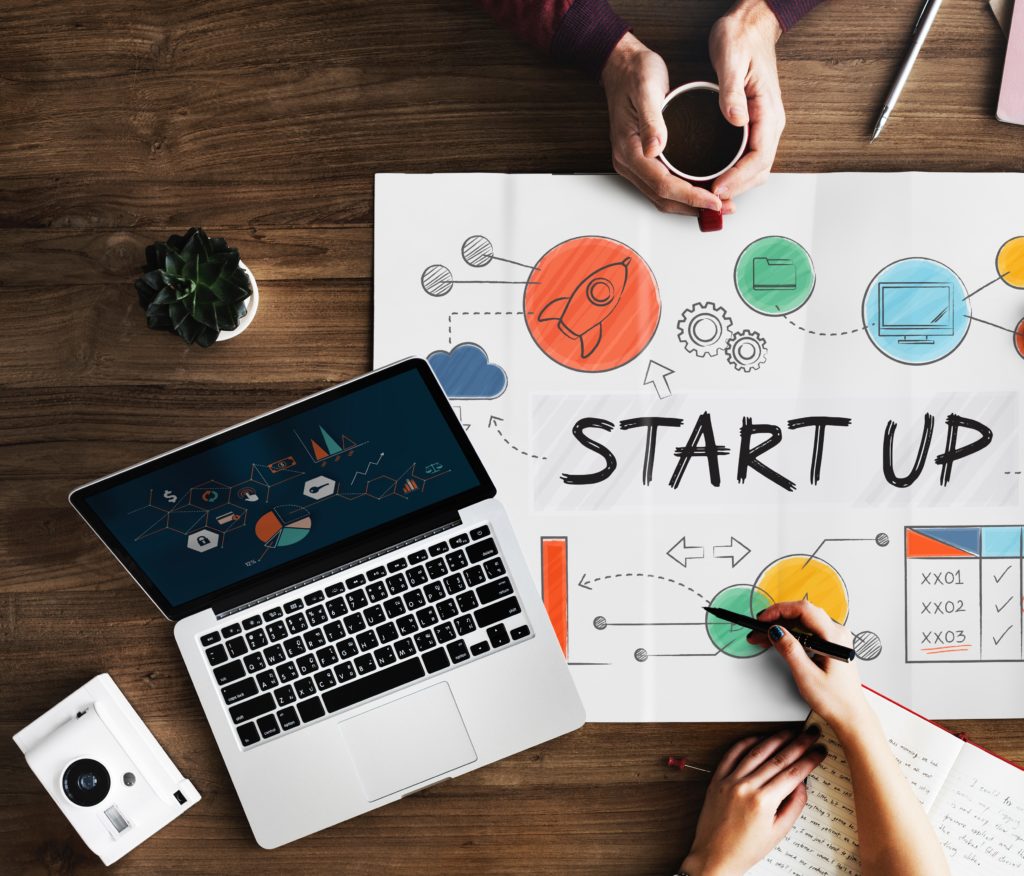 https://www.pexels.com/photo/two-person-sitting-by-the-table-with-macbook-pro-on-top-of-table-1305360/
Starting a business is hard, but fun. It's a dream for many people who want financial freedom and a vehicle to express their creativity while making a living. Whatever your goals area in launching a new venture, here are 5 things that you need to invest in right away early in your journey.
Download Branding Resources Guide
Building a brand starts by having the right tools and advice. Download our top 10 essential tools and resources to kick-start your branding.
1. Invest In Yourself
New entrepreneurs sometimes forget that they are their business. It's a direct expression of who they are as people and as business owners. Your business will reflect your values and your level of competency.
Leadership expert John Maxwell talks about the Law of the Lid. It's a principle that essentially states that your organization's effectiveness cannot exceed the leadership ability of the leader.
One area you should invest in yourself in first is in business acumen. That is the ability to understand finance and make good business decisions.
Many entrepreneurs are really great at their market and product. They know exactly what kind of styles their apparel customers want in their niche market. They know what kind of widget the companies in their industry needs. But they don't often know how to run the finance side of running a business.
Roughly half of all startup business in the US fail in the first 5 years. Most don't fail due to lack of demand for their product or even from not making a profit.
Most fail because they run out of cash. Essentially, these business owners don't know how to manage their cash flow. Cash management is a real skill set, and it's something that can be learned.
In addition to business acumen, other areas for investment include marketing, sales, leadership, and communications. Even as you grow, leaders should be readers. Never stop learning.
2. Invest In Your Team
Great companies are built on great people. That means you must invest in your people.
Developing and training is a vital part of employee engagement. You don't want robots working for you. You want human beings that can problem solve, come up with creative ideas and make their own good decisions for the benefit of the company. That doesn't happen without development.
Ongoing coaching is invaluable as well. People need regular feedback, encouragement, and direction. If you want your employees to grow and contribute well, you must water them with training, coaching, and affirmation.
3. Invest In Quality Branding
Investing in good graphics and marketing material early on will pay great dividends as you launch. A great logo can do wonders for making your business look credible, professional and reliable.
Even if you have to pay a graphic designer a lot of money, it'll be well worth it. This is especially if you're doing a consumer retail business.
For example, if you start an apparel business, good design is a baseline need. You can just consider it the startup costs of starting a clothing business, because your company can't even launch without good graphics.
Shoddy graphics is a sign of a company that operates haphazardly and an indication that the business won't last long. No one wants to do business with a loser.
4. Invest In Social Media
Social media has leveled the playing field for small businesses. It provides a very inexpensive way for brands to get their message out to the masses.
Investing in it early on will get you started on the long journey of gaining followers and becoming an influencer. It takes time for brands to get recognized and trusted on social media, so starting early is important.
5. Invest In Website SEO
Another aspect of marketing you should invest in right away is a website with good SEO. It takes time for Google and other search engines to trust a website enough to rank it. It also takes time to gain page authority for search engines to rank it high on the first page.
The age of the website matters when it comes to SEO. As Sewport CEO Boris Hodakel likes to say, "Starting small and niche doesn't mean your business will stay that way.".
When you have this type of long term view of your business, you'll want to start building your SEO right away. You'll instinctively know that getting ranked high on Google, although won't pay off in the short term, will have lasting effects as you grow.
Early Investments Pay Off
There are a few things that can't wait for later. These are the things that are foundational to the success of your new business and well worth your time and investment early on. It'll set you up for short and long term success.