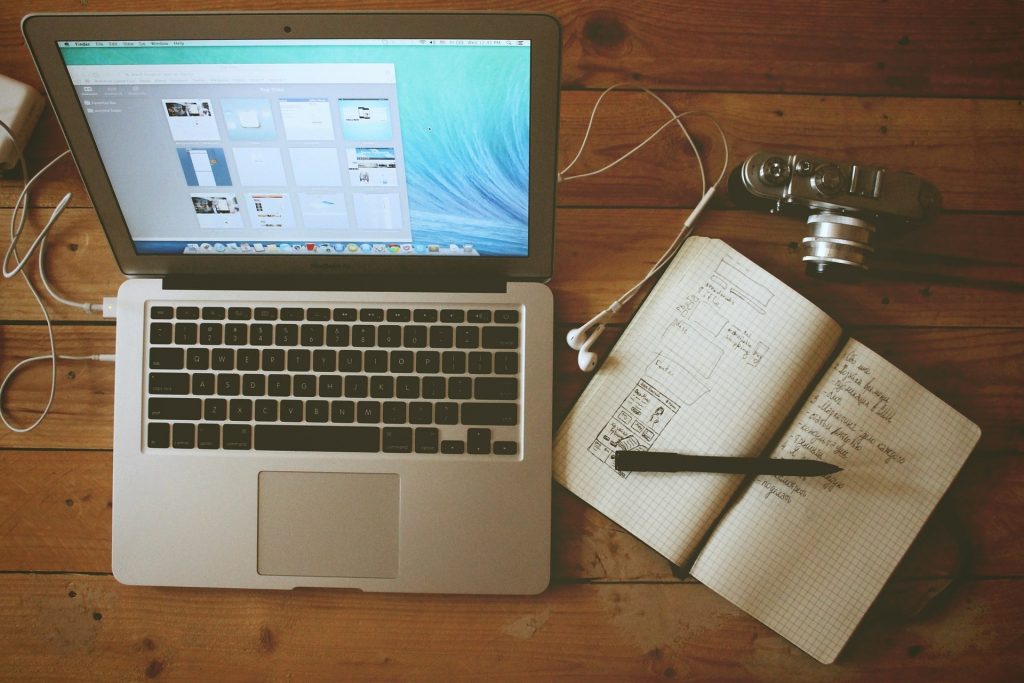 https://pixabay.com/photos/home-office-workstation-macbook-air-336581/
Before the advent of the internet, it was very easy to write an essay, article or content about anything that you wanted, as you only wrote the facts are quirky bits of information that worked in the piece that you were writing. However, in today's digital world, the way that we write has changed dramatically. When writing for a digital purpose we need to think about keywords, for example, the way in which the keywords are used and how often these keywords need to appear in our texts. We also need to consider the structure and relevance of what we write. There are no right or wrong answers on how to write a digital piece, however, there are some tips that you could follow to make sure that you stick to the right lines and get the desired outcome that you need.  Below, we shall take a look at some of the ways in which you can achieve the perfect end result by using some interesting writing techniques offered by advanced writing experts from a professional company.
Researching keywords
Researching your keywords is a great way to start looking at what to include in your content, after all, there is no point in writing something about nothing. Searching for keywords that are relevant to your content and including them in a natural way, is the best way you can write a piece of content that is good for digital marketing. Do not fall into the trap where you just write content related to the keyword and nothing else. Natural yet engaging content that is relevant will be far better than a disjointed piece of work.
Download Branding Resources Guide
Building a brand starts by having the right tools and advice. Download our top 10 essential tools and resources to kick-start your branding.
Keyword stuffing
As above, keywords are important when writing a piece of content however, how the keyword is used is also important. Do not be tempted to just to show the keywords in your content as many times as you possibly can, as this will make your content seem unnatural. The keywords, as mentioned above, should be placed naturally and where necessary. If you write the piece of content properly, at keywords should naturally fit into the piece of content that you are writing about.
Call to action
A call to action is a great way of adding to your content piece. This can be a powerful tool when you have written a piece of content that is engaging and interesting. A call to action should be nicely placed towards the end of the post. That said there is nothing wrong with putting a call to action in other areas of the post as long as it is relevant. A call to action can be something as simple as a 'click here for more information'.
Language
The language that you use is very important when writing a piece of content. You have to remember that when you are writing a piece of content you have to consider the audience that you are writing for, for example, if you have a business site then you have to use business English or business related language so that is suitable for the people that are reading it. The same can be said for a car site the language has to be simple but concise and relevant to the car industry. It is important that you never write a poor piece of content, but you can use modern language i.e. slang language and colloquialisms. You could even get away with using incorrect grammar such as writing the word 'e-mail' without the dash or using the term Internet with a lower case 'i'.
Hyperlinking
It might sound odd, but hyperlinking in your article is very important when thinking about digital marketing. Referencing the information you have used and sending links back to the original information is very important as it shows relevancy to what you are writing about. Having links to high authority sites such as the BBC is also important as they show that the whole article has been fully researched and that you are happy and comfortable to connect to other sites that are relevant to what you are writing about.
Paragraphs and bulleting
It is always advisable to write in paragraphs or bullets to break up the piece of content into bite-size readable chunks. It is far better to write smaller chunks of content, rather than long paragraphs, which will not engage the reader and the reader, will be left feeling bored. Bullet points are also a good way of writing your content because if you bullet each point within a paragraph, it will again reduce the amount the person has to read which will keep them engaged for longer. You can either use bullet points or numbers to break down a piece of content.
A catchy hook
When writing a piece of content, make sure that you have a catchy intro or a hook to make the reader want to continue reading. This is a good SEO tool, as it will engage the writer from the offset so that they can read the rest of the content and click along any links along the way get further information.
As you can see there are a number of ways that you can gain to help you with your digital marketing content production. If you follow the above steps, you will soon see that you are on the right path to making sure that each piece that you write will be suitable for your digital marketing needs.