This is a guest post by Melissa Crooks
In addition to Gmail, Google AdWords and Google Analytics, solutions that many people and companies already use, there are a number of free tools that Google makes available to any user. And SMEs can take a lot of advantage. In this post, we will talk about the top 10 free tools of Google.
Download Branding Resources Guide
Building a brand starts by having the right tools and advice. Download our top 10 essential tools and resources to kick-start your branding.
What are the 10 best free tools from Google?
Google My Business
Nowadays, we can practically say that if your company does not appear in the Google search results (SERPs), it does not exist. Appearing in Google is essential to give visibility to your company on the Internet, and this is easy to achieve thanks to Google My Business.
This tool, in addition to facilitating the creation of the website of your business if you do not already have it, promotes the presence of your company in the Google results list, Google Maps, and Google+.
In addition, whenever someone directly searches for your company name, a tab will appear where you can post photos, specify the address and business hours, including updates – such as offers or product news – and allow your customers or users to leave reviews, which you can also comment to promote communication with your audience.
Think with Google
If you did not know that Google My Business existed, then you probably will not know that Think with Google exists either.
It is a tool full of resources so that marketing professionals can be up to date on trends and marketing campaigns. In Think with Google, you can find market studies, infographics, advertising trends and a number of articles and success stories that will help you grow your business.
Google Alerts
Have you ever mentioned your company in an online publication and you have not heard about it for several months? If you do not have any PR that monitors mentions of your business on the internet, you can always count on Google Alerts.
This tool allows you to configure alerts easily and quickly with respect to the keyword you want. It can be the name of your company, your main competitor or a technology or trend that you want to be well informed about.
Once the alert is configured, you will receive an email every time that an online publication mentions the keyword you have selected. You can choose the frequency of this notification, as well as the language or region in which you want Google to track the mentions.
In this way, you will always find out every time your company name appears in any online publication and you can help spread the news through your social networks and amplify the scope of the publication.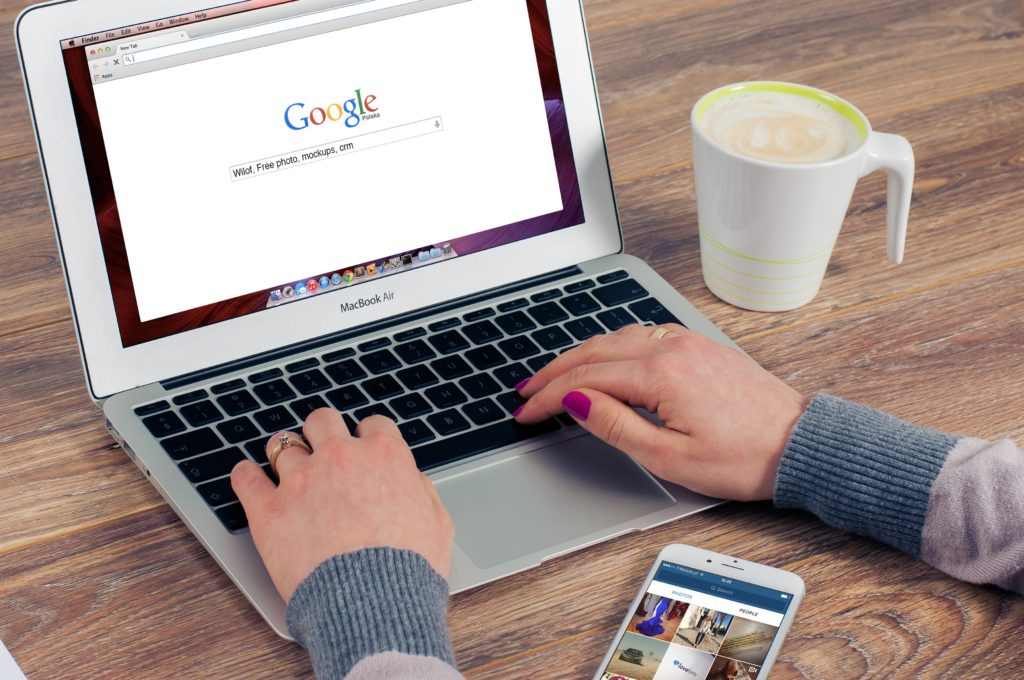 Photo credits: https://www.pexels.com/photo/coffee-apple-iphone-smartphone-38547/
Google Trends
Google Trends is a tool that allows you to explore the popularity of a keyword or expression over time. It allows filtering by countries, time intervals, categories, and type of search: web, images, news, Google Shopping or YouTube.
This tool is not only useful for marketing professionals since it is used to decide the keyword to use. It can also be used to detect market trends and improve the catalog of your company's products.
Google Forms
Have you ever considered doing a survey to know their degree of satisfaction of your clients and find out what you could improve? Carrying out satisfaction surveys is an increasingly common practice since it is essential to know what customers think and thus improve our products or services.
To do this, Google offers a free tool that is very easy to use: Google Forms.
In addition to satisfaction surveys, the use cases of t Google forms can be very varied: brief surveys about a specific product, conducting interviews with clients, asking to know the opinion of your employees and collaborators about any topic, etc.
Google Hangouts
Google Hangouts was designed to facilitate the communication of teams that work remotely. In addition to the possibility of chatting, this resource includes video chat, SMS and voice call via IP.
Given that more companies have professionals or teams working remotely, having a tool to communicate remotely is essential and much better if it's free.
Its use is not limited to conversations or remote meetings with employees but also serves to hold meetings with clients from other countries, present a new product or service through video conferencing, interview candidates or participate in a remote chat.
Google Keep
Google Keep is the perfect tool to store notes, in text or audio format, to which you can also add images and set reminders. It is available in mobile app format, both for Android and iOS, and can also be used in web application.
Google Keep can be used from any device – tablet or mobile – and all are synchronized.
One of the most interesting features related to reminders is that you can set a geolocalized reminder. For example, you can configure that when entering a client's office, the note with the details to be treated in a meeting should activate.
URL Shortener
Basically, URL Shortener, as its own name indicates, is a shortening of URLs (web addresses or links) very simple.
URL shorteners, in addition to displaying the shortest URL, are used to "trace" that web address. That is, to know how many people clicked and, therefore, know the interest in the content of the link.
If you already have a blog in your company but do not have any social media tools, you can start using this link shortener from Google, which also offers analytical data about shortened URLs: number of clicks, search engines used, mobile platforms (iOS or Android) and countries from which the link has been visited.
Google Calendar for Companies
With the number of meetings, activities, and events that we attend today, it is impossible to remember everything if you do not have a digital calendar with which we can create reminders and alerts that we can also receive on our mobile phone.
You can share your calendar with your work team. Thus, if someone needs to meet with you, you can directly propose a time of the day or week in which you know you have nothing scheduled.
You can also create different calendars – events, meetings with clients, birthdays, vacations – and share them with the rest of the team, which makes it easier for everyone to be well informed about what is happening in the company.
Author Bio:
Melissa Crooks is Content Writer who writes for Hyperlink InfoSystem, one of the leading app builders in New York, USA & India that holds the best team of skilled and expert app developers. She is a versatile tech writer and loves exploring latest technology trends, entrepreneur and startup column.