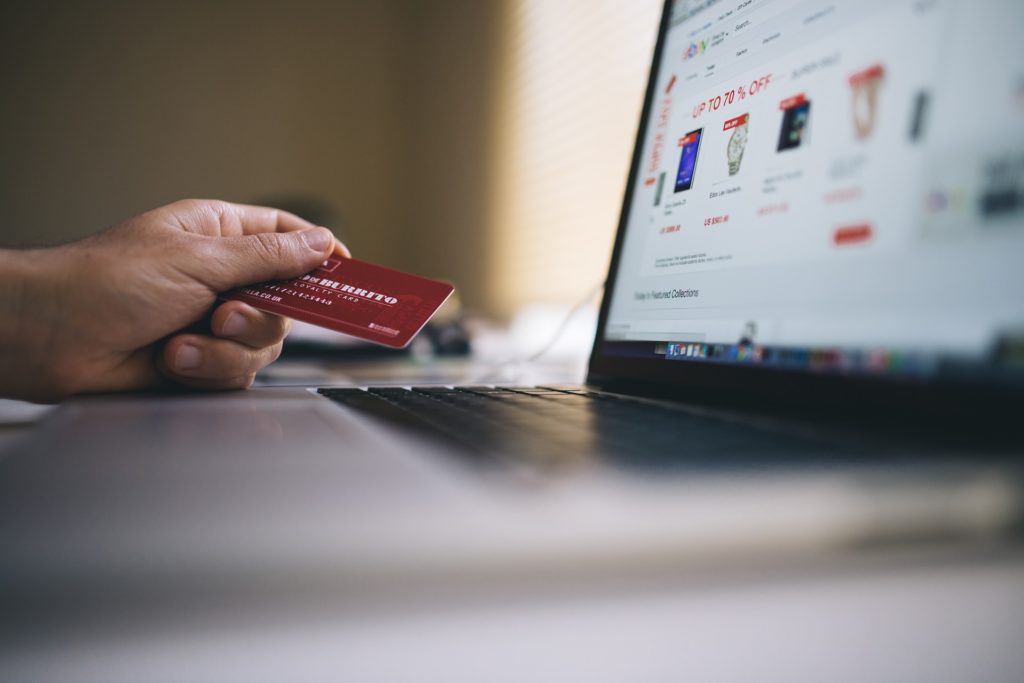 Photo credits: https://pixabay.com/en/ecommerce-shopping-credit-card-2607114/ 
Are you in the market for an e-commerce solution? If so, you'll definitely love this short WooCommerce vs Shopify comparison. I also think you'll agree creating an online store is a challenging feat. Turns out you can create an online store easily, and in this post, we help you to choose the better e-commerce platform for your needs.
We break down the post into sections such as features, pricing, and support among other things. By the end of it all, you will pick the right platform for your online store. Do you lean towards WooCommerce or Shopify? Let us know that in the comment section at the end.
Download Branding Resources Guide
Building a brand starts by having the right tools and advice. Download our top 10 essential tools and resources to kick-start your branding.
Without further ado, let us weigh anchor and sail.
WooCommerce vs Shopify: Basic Overview
WooCommerce is a plugin that you install on your WordPress-based website. It allows you to add powerful e-commerce features to any WordPress site. On the other hand, Shopify is a subscription-based e-commerce service. You don't install Shopify; you simply sign up.
WooCommerce requires that you have a WordPress site first. Shopify doesn't require you to have a website first; it's a cloud-hosted e-commerce platform. While WooCommerce comes with a long (and often times arduous) configuration process, creating an online store on Shopify is a breeze.
Setting up a site on WooCommerce requires that you're familiar with web-related things, even though it's easy stuff once you get the hang of it. Things are a bit tidier with Shopify; setting a store on the platform is akin to signing up for a blog at, say, Blogger.com, or getting an email address at Gmail.com. Well, sort of.
All the same, both platforms come with enough features to launch a highly successful online store, whether big or small. Also, allow me to mention that the e-commerce platform that you end up picking from this comparison post boils down to personal preference and, of course, your needs.
WooCommerce vs Shopify: Features
WooCommerce is a free WordPress plugin that ships with enough features to create a basic online store. If you need more features, however, you can count on the wide range of free and premium WooCommerce add-ons.
Out of the box, WooCommerce ships with a ready-to-use cart, a checkout page, shop and a "my account" area where buyers can track orders and view their profiles. On top of that, it comes with five default methods of payment but you can add more.
Other than that, WooCommerce comes with an intuitive admin dashboard that makes managing your online store as easy as A, B, C. And thanks to a dedicated Products menu, you can sell digital and physical products on your e-store like a boss.
In terms of store design, WooCommerce is compatible with most if not all WordPress themes, such as the free BuddyBoss theme, since it's just a plugin. There are, however, WordPress themes that are specifically made for WooCommerce. As such, designing the perfect e-commerce store is a theme or a developer away.
Shopify, too, shines in the features department what with a slew of nice e-commerce-centric features. Since it is a dedicated e-commerce service, you can expect all the features you need to build small and enterprise-level stores. You also get a free sub-domain (you can add a custom domain later) and free SSL certificate.
On top of that, Shopify comes with a good number of free and premium extensions that allow you to add some nice features to your store. Still, Shopify is incredibly easy to use no matter your experience or coding knowledge.
In the design department, Shopify features hundreds of themes. Well, the number of themes available for Shopify fades in comparison to what's available for WooCommerce. All the same, the themes are professional and specifically designed for e-commerce.
An intuitive quick-start wizard helps you to set up either, but Shopify's onboarding process offers you much more convenience. It takes fewer steps and effort to set up a store on Shopify, something we can't say about WooCommerce.
WooCommerce vs Shopify: Performance and SEO
On the web, content is king. Without amazing content, you cannot expect your store to perform well money-wise and on search engines. However, the quality of your content is only one of the more than 200 SEO ranking signals.
Nowadays, page load speed is an important SEO ranking factor. Now, this is where things get tricky, with some users claiming WooCommerce outshines Shopify and/or vice versa. Well, I root for Shopify here because it has dedicated servers that guarantee great speeds and uptimes.
On the other end of the spectrum, we have WooCommerce. The page load times you'll record on WooCommerce depends on a couple of factors, the most important being the host you choose. Go for dirt-cheap hosts at your own risk – because, come on, what kind of performance do you expect from a host that charges a $1 buck per month.
In terms of performance and SEO, Shopify outshines WooCommerce since Shopify's engineers do a great work of maintaining the servers for you. You just focus on the business side of things, unlike WooCommerce where you are in charge of site administration among other things.
Both platforms come with great SEO-related features, but that speed thing we just mentioned can be a deal breaker for WooCommerce stores, especially if you end up with a poor host. The chances of getting poor speeds on Shopify are slim.
Photo credits: https://pixabay.com/en/ecommerce-online-shopping-e-commerce-1992280/
WooCommerce vs Shopify: Pricing
As we've already mentioned, WooCommerce is a free plugin. However, to add more features, you will need extensions and these don't come cheap. Your costs can quickly rack up depending on the extensions you choose, and this applies to Shopify as well.
To run a basic e-commerce store, though, you need about $29 bucks a month whether you choose WooCommerce or Shopify. But depending on the time commitment you put towards setting up a store, Shopify is the cheaper option in my opinion.
Besides, Shopify offers you a free 14-day trial to test the waters. You just need a paid plan to start selling. With WooCommerce, you need to find a web host, buy a domain name, set up WordPress, install SSL and then install the e-commerce plugin, before selling.
WooCommerce vs Shopify: Support
WooCommerce is open source, meaning you can get help on the support forums at WordPress.org. On top of that, you can sign up on the official WooCommerce site to get support. Shopify, on the other hand, is a commercial e-commerce solution. You get professional 24/7 support via email, chat or phone.
Final Words
Whether you go with Shopify or WooCommerce, running a successful online store is all about providing great value to your users. Endeavor to provide amazing products and user experience, and you're golden no matter the platform you choose.
WooCommerce has a steeper learning curve compared to Shopify, but once you get used to either of the platforms, the cost, and effort required to run your store depend on the features you need. Shopify is for the entrepreneur who wants to hit the ground running. WooCommerce is perfect for the businessperson who isn't afraid to play around with myriad settings.
Between WooCommerce and Shopify, which platform do you feel is the better option for your business? Please let us know your thoughts in the comment section below.