Instagram is one of the most popular social networks worldwide, with approximately 1 billion monthly active users. Therefore, marketers should capitalize on Instagram now.
However, a lot of businesses surprisingly struggle with social media as a whole. Out of the 94 percent of B2C marketers that are using Facebook, only 66 percent think that their campaigns are effective.
But the thing is, you need to take necessary steps to kick off your presence on the platform. Whatever action you take, whether it's hashtagging, posting, and every other element of your digital brand. Everything must be done with a purpose.
In this post, discover the ten ways how you can grow your brand on Instagram.
Download Branding Resources Guide
Building a brand starts by having the right tools and advice. Download our top 10 essential tools and resources to kick-start your branding.
Define your goals
Instagram is an excellent platform to build your brand awareness, improve your customer loyalty, turn leads into sales, and to craft a better brand image. It also allows you to target different kinds of users through the platform.
When setting up your account, first think what your goal is, as well as the actions you need to take to achieve that goal. Then, talk it out with your team and think about what strategy will help you get closer to your goal.
What specific demographic do you want to engage with, and what does your target audience love seeing online?
Defining your goals is crucial, especially if you want to come up with a content style, as well as execute your brand building tactics.
Identify your target audience
You need to know who your target audience is. If you're relatively new to Instagram and you're searching for your target audience. Newsflash: they're with your competitors.
A straightforward strategy that you can apply is to connect with the followers of your competition, hoping they'll follow back. Moreover, you can utilize social listening tools to know where the conversations about your brand are happening.
Produce visually-appealing content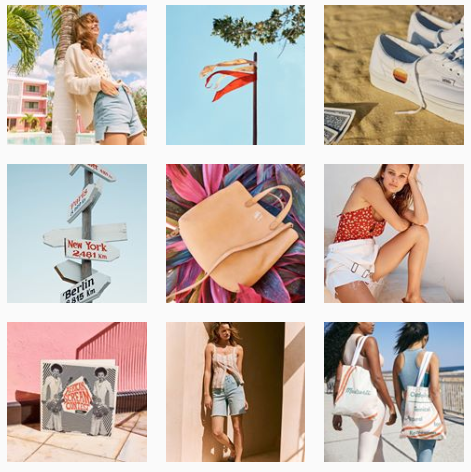 Source: Madewell
A human brain processes visual content 60,000x faster than text. No wonder we are dubbed as visual learners.
Meanwhile, Instagram is a highly visual platform, and the quality of your images play a crucial role in building the reputation of your brand.
You can work with a professional photographer while sharing images about your brand or business on the platform. You can also use high-quality stock images from Burst, Pixabay, and Unsplash to publish more compelling posts. Moreover, there are filters on Instagram that makes your photos look trendy.
Look at your competitors' profiles and study the posts that work best. The standard size of square images on Instagram is 1080px by 1080px.
Find a theme that suits your brand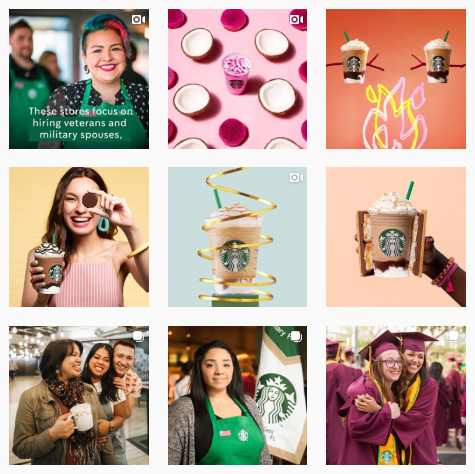 Source: Starbucks
It's essential that you find your focus or theme on the platform. Many brands make the mistake of not having a theme. All they do is to publish quotes and material that doesn't have jive with the rest of their posts.
Don't try to wear too many hats. Otherwise, you'll leave your followers confused. People want to know who you are, so be authentic. Let your unique personality shine through.
So, find a theme that suits your personality well. See if it fits your brand, then sticks with it.  Over time, people will associate that with you, and your photos will be recognizable.
Some people think that having a theme means that all of your pictures will look the same. It isn't. It's all about focusing on the story and colors. It's up to you if you want your theme to be full of colors, bright, or dark.
Use appropriate hashtags
If you want to get noticed on Instagram, using hashtags is a great option. Hashtags are used by the platform to categorize your content.
For the greatest impact, the ideal is 11-15 hashtags per post (but the maximum is 30).
You can check hashtagify.me for ideas. Just input one hashtag, and the tool will generate other similar, popular hashtags.
Another straightforward trick is to watch how your competitors and the successful influencers in your niche are using hashtags. You can consider adopting those tags in your current strategy as well.
Utilize geotagging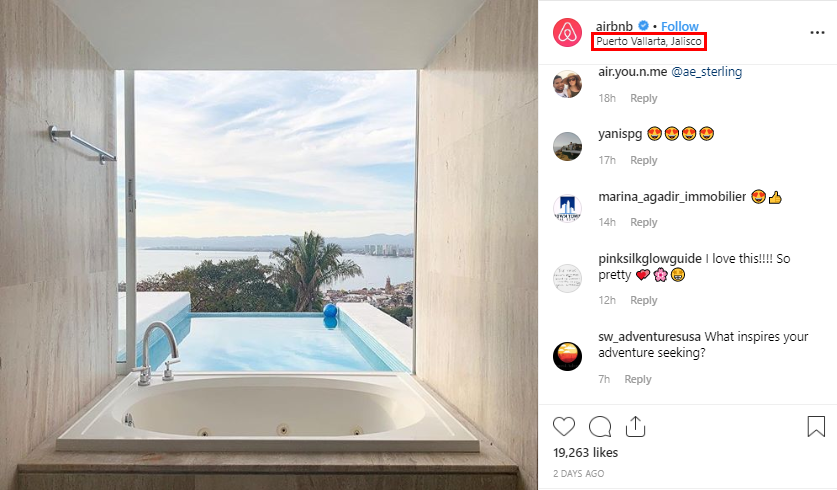 Source: Airbnb
Geotagging is when you tag your location in the post that you publish. It's the same as checking in.
On the platform, there are three types of geotagging:
Putting your location on your posts makes it more convenient for users to find you. It also helps your post show up more in searches.
Simply Measured reveals that posts that have a location tagged in it have 79% more engagement than those that don't have any.
Create Instagram stories
Instagram stories are videos and photos on the platform that disappear after 24 hours.
They're an excellent way to share moments that you don't want to show up in your profile permanently.
They're a great way to show fun, and behind-the-scenes moments to create relationships.
So, it's time to get creative! Do a doodle, place stickers, and place captions on pictures. Doing so helps your audience understand your personality.
Note that Stories are only available in the platform's mobile app, and appear right on top of your feed. Moreover, the explore tab aids users to search for Stories from other people.
Organize contests and giveaways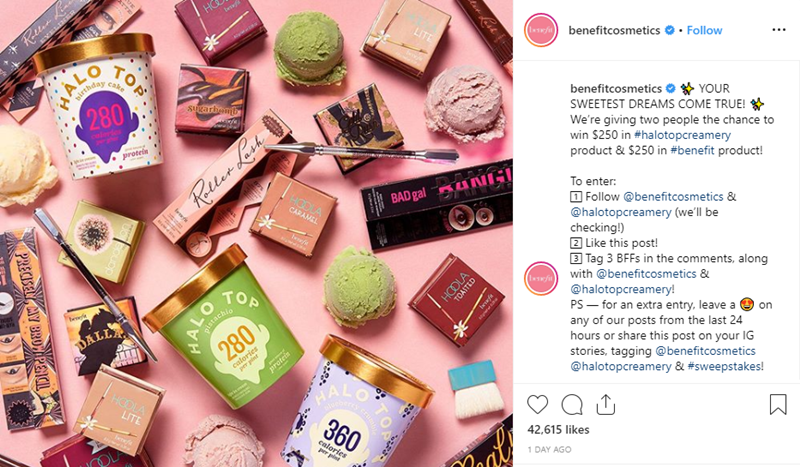 Source: Benefit Cosmetics
Hosting contests and giveaways are an effective strategy to broaden your reach and win you over more followers.
Both big brands and small startups are using Instagram contests and giveaways to grow their following, reach more people, and create a buzz with their new products.
Here are the primary reasons why you need to consider this type of promotion:
To build your Instagram following over time
To encourage social sharing on a particular post on Instagram
But for this to become possible, you first need to think of something that your audience would want to win.
Do you think that a product of yours or a gift card would be better? What is it exactly that they want? Figure that out and think of ways how they can get it.
Also, keep in mind that Instagram has their policies when it comes to hosting contests and giveaways. Take a few minutes to read and learn the rules.
Work with relevant influencers
Work with influencers in your niche when you're promoting your business on Instagram.
Look for relevant influencers in your industry that have a steady following. Then, get in touch with them and see if they're willing to do a shout out for your brand in the profile.
Measure, track, and analyze
Finally, analyze your marketing activity on Instagram to know what kind of content are doing well with your audience. That will make your future content more engaging and relevant.
You can utilize tools like Iconosquare and Sprout Social to track your results. Also, you can look online for data-driven tips on how you can improve your e-commerce conversion rates.
Through these tools, you'll know what times will your posts perform best, your follower analysis, engagement rates, and so on.
Over to You
When it comes to bringing your brand on Instagram, things can get tricky, especially if you've started on the wrong foot. But by taking all of these tips into consideration, you'll be able to leverage your Instagram account, letting you thrive in the platform, and achieve success in the long run.