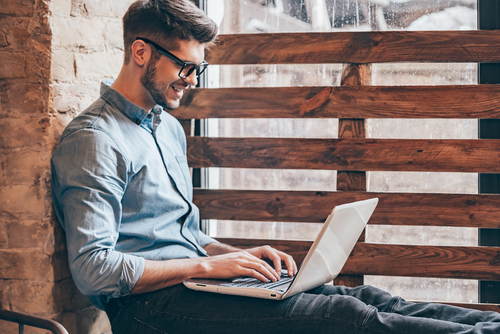 With thousands of blogs saturating the Internet in almost every niche, it's crucial that bloggers can set themselves apart from the competition and gain a loyal audience. Whether it's through a Facebook page, email subscription, or other channels, blog readership can be measured by how many people are keeping an eye for blog updates from you.
This is significant because the willingness to subscribe is not something that any reader would do to just any blog. It's like turning a one-off reader to a regular one. It's going to take effort and patience to grow your blog readership, but it's definitely something that you can do.
Here are four ways to improve your blog to develop a loyal audience:
Download Branding Resources Guide
Building a brand starts by having the right tools and advice. Download our top 10 essential tools and resources to kick-start your branding.
1. Deliver quality content
Quality always surpasses quantity when it comes to blog content. Readers see so much information on the Internet, so when they find a really good one, they are compelled to read more from that source and begin to trust it. It's cliché, but "content is key" is still relevant.
Here are some ways to deliver quality content:
Craft irresistible titles or headlines to catch their attention and encourage them to read your blog.
Create content that is valuable for your audience, those that would help them with their challenges or meets their need.
Avoid using jargon or industry terms that readers won't be able to understand, especially first-time visitors of your blog.
Don't hesitate to consult experts like David Hallstrom for help with content marketing if you feel overwhelmed.
Utilize search-engine optimization (SEO) strategies like keywords so that your target audience can find you. However, don't commit the common mistake of focusing on SEO alone and neglecting the content that would appeal to readers.
2. Encourage subscription
Once you can provide content that your audience would read, you'll have a better chance of growing your readership. However, the primary reason your readership might not be growing could be simply because you don't encourage them to subscribe to your blog.
There are so many creative ways to ask readers to subscribe to your blog, such as:
Including a static sign-up form on your sidebar which can persuade readers to fill out no matter what page they are in.
Craftily incorporating subscription in your blog post so it's relevant and won't look like spam.
Offering gifts, discounts, or any other perk when they subscribe to your blog.
3. Host contests and giveaways
Contests and giveaways are proven to be effective in growing a blogger list. They are amazing measures to keep current readers excited and one-off readers to participate and subscribe. When using this strategy, you must carefully plan and make sure that the reward is something relevant and appeals to your audience.
Here are some things to remember:
Keep mechanics and instructions simple to encourage more participation.
Create steps that could increase their entries and chances of winning.
Be transparent with when and how the winner will be chosen.
Protect your blog by ensuring that you are following local laws or regulations from other countries if the contest is open to other locations.
4. Be on social media
Platforms like Facebook, Instagram, Twitter, and LinkedIn are popular because of the ability to connect and network. Many blogs have strong social media presence because it's an avenue to be able to engage with their readers. The more you make a connection with your audience, the more you build a sense of trust that will allow you to expand your reach.
Here are some tips:
Research where your audience is lounging.
While you can have an account on all social media platforms, the only one or two that matter are those where your audience is.
Give time to engage.
As much as you can, reply to comments, give valuable tips and advice, and so on.
Don't sell all the time.
A common mistake of many blogs is overselling on social media, which discourages readers from visiting the blog or subscribing because of the thought that there is nothing else to offer besides products or services.
Don't belittle user-generated content (UGC).
Encourage your readers to share photos, videos, testimonials, and so on, which are relevant to your products, services, or niche. UGC's are seen by others to add to the authenticity of your blog.
Offer guest blogging.
Once you have a social media community, offer guest blogging to your site. You can be creative with how to choose the guest blogger, or you can turn it into something regular. Your guest bloggers will also reach out to their network to promote your blog.
Final thoughts
Blogging is widespread in this digital age, and many bloggers are competing to ensure that they have readership and continue to expand it. You can craft various types of blog posts and incorporate the tips given above so that you can have a more extensive reach. If more people are reading your blog, there will also be more leads to generate and sales to convert.