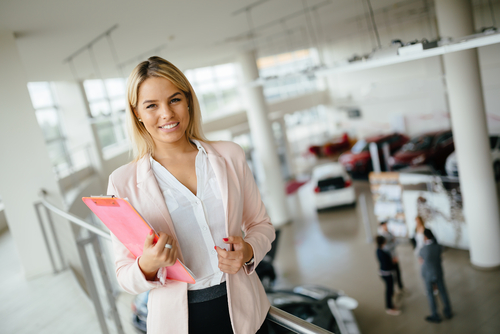 In sales, nothing is perfect. However, there are some ways that you can be a successful salesperson, and one of them is possessing and cultivating certain traits that make you stand out from the others. Here are eight personality traits successful salespeople possess.
1. Resilience
One thing's certain when you're making sales – you'll get rejected a lot along the way. Rejection is inevitable in this line of business, but the successful salespeople learn how to get back up. This personality trait is called resilience to rise above failure.
Download Branding Resources Guide
Building a brand starts by having the right tools and advice. Download our top 10 essential tools and resources to kick-start your branding.
Above all traits, it's crucial that, as a salesperson, you must have the resilience to survive the world of sales. For example, when selling cars, you most likely won't be able to sell to the first ones that you meet. So, you need some resilience to be able to get past your failures and move forward.
2. Conscientiousness
The most successful salespeople don't only care about selling for the sake of selling. What makes them great is their high level of conscientiousness. This means that they have a very strong sense of responsibility and reliability. They put their work to heart and make it their goal to provide the best service. By having a conscientious personality, you can build strong professional relationships and loyalty with your clients.
3. Adaptability
Many things happening around the world affect your business and your sales. When selling, you have to know the different market forces, economic conditions, and political issues while being able to have a feel of the client's quirks and motivation to make a purchase. This almost happens simultaneously, and a successful salesperson would know how to adapt quickly and navigate through this.
4. Drive
Top performers and successful salespeople have a common trait, and that is being driven either by achievement or other meaningful things. Salespeople who have a goal in mind and do everything to achieve it are bound for success. By having a goal-oriented and driven mindset, they are able to strategize their ways of selling to be able to close the deal. Whether you have experience in sales or not, having a driven personality will make all the difference. Because of this trait, you're also able to be the best version of yourself.
5. Confidence
Confidence is key to closing sales deals. Every successful salesperson believes in the product they're selling. You have to exude confidence when marketing your product or service so that your client will believe you and buy from you. If you don't believe in your abilities or you're unsure of your product, it will definitely show in your dealings and presentations, and your performance will suffer.
6. Good Listener
Another personality trait of successful salespeople is their ability to listen attentively. An example of a lousy salesperson is one who keeps on talking, monopolizes the conversation, and forgets to listen to the client. Salespeople who listen to clients are able to provide solutions to the problems of the customer and satisfy their needs and preferences through their product or service. So, make it a point to listen to your clients before you aggressively push your offerings.
7. Approachability
People skills or soft skills are vital for someone in the sales force. In your day as a salesperson, you'll encounter a lot of people and will need to talk to them. You need to be accommodating to the people you meet for the first time and understand their specific needs immediately. By being approachable, customers won't be intimidated to talk to you and be more trusting.
8. Hardwork
Successful salespeople understand that closing the deal isn't the end of a sale. Along the way, the client may have another problem, and a good salesperson is always ready to help him out. Following this stride, you must be hardworking to be able to accommodate all of the concerns of your customers.
You must provide an end-to-end service for your clients so that they'll be satisfied and come back to you for future sales. As a bonus, if your client is pleased with your service, they can recommend you to their family, friends, and coworkers. This is how most successful salespeople made it big in the industry – through word of mouth and recommendations. Think of these as some kind of brand marketing program for you.
Conclusion
The personality traits listed above are what separates a successful salesperson from an average one. Acquire and enhance these traits in order to make a name for yourself in the competitive world of sales.