Branding engineering and related architectural and construction firms take more than having a good logo designed and deciding on a mission statement that summarizes the aims and values of the company.
Good branding goes hand-in-hand with marketing strategies and will ensure that people recognize who you are and what you stand for. It represents a promise to your clients that tells them what they can expect and differentiates your firm from others operating in the same engineering niche as you. 
Your brand will emanate from who you are, what you want your engineering business to be, and the way your clients and potential customers perceive you and your firm.
But one of the greatest challenges is that engineering firms, like architectural and construction companies, don't offer products for sale. Rather, they are service-based and so their offerings are intangible and based on experience rather than physical performance or functionality. 
Download Branding Resources Guide
Building a brand starts by having the right tools and advice. Download our top 10 essential tools and resources to kick-start your branding.
Additionally, any business that offers services may have diverse offerings with multiplex values. All of these need to be associated with the brand and highlighted in some way. 
Branding Tips for Engineers
1. Role of a Good Logo
Having said that branding is more than having a good, identifiable logo and mission statement, it's important to recognize that both these elements still form a vital part of the branding process:

A good, well-designed logo will reflect both the name and mission statement of your business in a simple visual manner. If the color is used, this must be carried through all visual branding for consistency. 

The mission statement will define the fundamental purpose of the business and identify the services offered. When engineers formulate a mission statement they need to know who their potential clients or customers will be. 
Visual elements make any brand recognizable, which takes us back to the logo and colors are chosen if any. You will use these on letterheads, corporate communications, brochures, and possibly clothing or giveaway items like pens or caps. With reference to the two logos above, people will immediately recognize that you represent a business called Altitude Branding or New York Engineers. 
But that is just the beginning. You also need to have a vision of where you want the business to go and what you hope to achieve. 
2. Defining the Brand
Engineering is a broad field and many firms specialize. Perhaps you want to brand your company as a mechanical, electrical, and plumbing (MEP) engineering firm or perhaps a business that offers top-quality heating, ventilation, and air conditioning (HVAC) engineering services. Maybe you want to focus on mechanical engineering services or fire protection services including sprinkler design.
Alternatively, you might want to brand the firm as a business that offers a wide range of services that all embrace energy-efficiency and sustainability. 
Whichever emphasis you choose, successful branding will ensure that your company's name is commonly associated with the top services you offer. 
Once you have identified where the business is currently positioned in the marketplace in terms of both goals and competition, you can define the brand and the promise it offers. The definition should also identify the values the business incorporates. 
3. Manage the Brand
Most successful brands are properly managed, and an engineering firm's branding should be no exception. A brand management team, either employed or out-sourced, will (or should) keep the identity of the brand alive and on track. 
While recognition of visual branding will be helpful, it's what the brand stands for that is important. One way to share the brand voice is to make sure that when the business communicates on any level it sends out a consistent message. Another way is to encourage and empower those working within the firm to integrate the values of the business into their daily lives and the way they operate independently and with the rest of the team.
Make everyone – employees and members of the management team – feel as if they are ambassadors of the brand and know how to communicate the message of the brand in a positive way. 
Managing the brand will also require regular evaluation to ensure the business stays on course and achieves its goals. There will likely be a learning curve and goals might change. But when branding is successful, customer loyalty will increase and the business will start to demand a higher market share of its particular engineering niche within its physical area of operation, Chicago or New York for example. 
Updating Branding

Your engineering firm may already be branded, but is it still working for you? The truth is, it's not unusual for businesses to need revamping and refreshing every three to five years. 
A fairly quick assessment will tell you if it's time for renewal or a revamp. Consider if:
The existing branding is outdated. Just updating your logo might make a huge difference.

Your services have changed or you might have shifted to a different engineering niche. If so, the branding message must change too. 

Your branding isn't achieving the response you anticipated. Start by redefining your target market and then adapt your business image to match. If this doesn't work you might have to start afresh. 

Objectively assess whether branding is consistent through all elements of the business from business cards and your website, to the office environment. Inconsistency can be confusing and it tends to look unprofessional. 
Updating branding is much like the buildings that engineers help to renovate and restore! Everything needs a change from time-to-time. Don't feel bad – just do it. 
About the author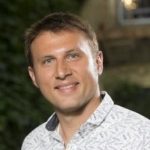 Michael Tobias is the founder and principal of Nearby Engineers and New York Engineers, an Inc 5000 Fastest Growing Company in America. He leads a team of more than 30 mechanical, electrical, plumbing, and fire protection engineers from the company headquarters in New York City, and has led numerous projects in New York, New Jersey, Chicago, Pennsylvania, Connecticut, Florida, Maryland, and California, as well as Singapore and Malaysia. He specializes in sustainable building technology and is a member of the U.S. Green Building Council.