Whether you are a web developer or the owner, the website represents your working environment. Situations when you have to work fast or solve some problem, soonest possible, are often and frustrating. Sometimes your income depends on it, or you are at risk to lose clients or customers because the website loads slower than usual. Problems are many.
A website can be a target of a hackers' attack or some other unfortunate issues can compromise the quality of it. Especially in the world of web development, main tasks such as testing, debugging, and coding depends on the website's smooth run.
Developers can hardly achieve quality and reliable results in an unstable environment while the website owners run business with a lot of difficulties. One solution, when you get in trouble with the website, is to engage outside's developers to support, but this is also the most expensive one. However, this is not necessary and there is a simpler solution at disposal you can use on your own, anytime you need. WP Reset plugin is built to enable complete restore of original website settings while you are keeping control over the process. The plugin is fast and accurate, empowered with several fail-safe mechanisms.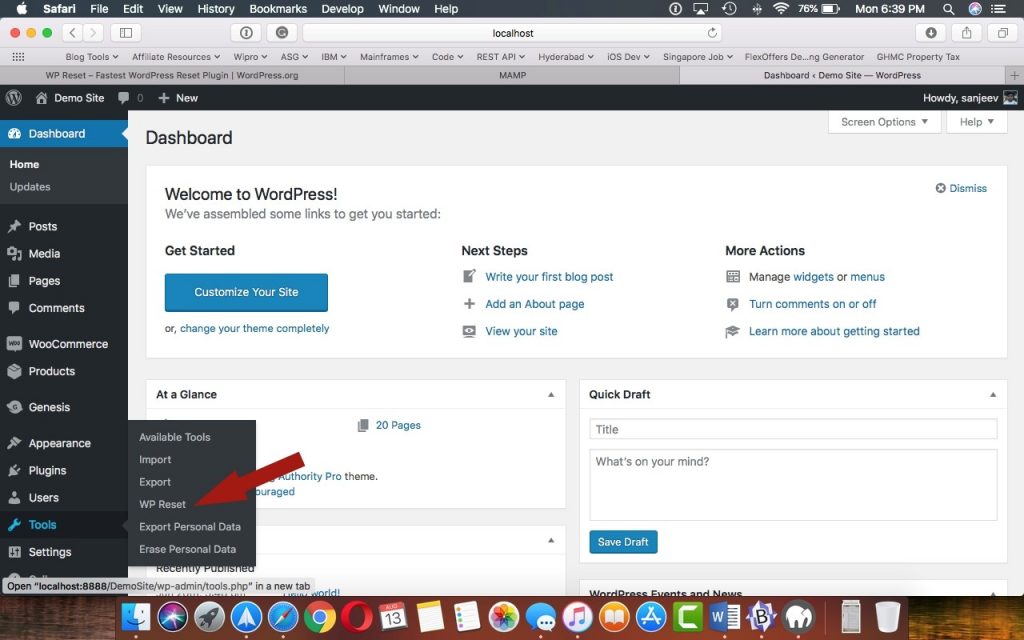 Download Branding Resources Guide
Building a brand starts by having the right tools and advice. Download our top 10 essential tools and resources to kick-start your branding.
Maintain the Website by Checking and Updating It Regularly
Websites change over time, become more complicated, overwhelmed with all kind of content, and most importantly, they constantly grow. If they remain unchanged, the competition will beat them. You have to be aware that working hard on your website is not enough for success.
The quality of it has to remain uninterrupted, and you can ensure that only with the proper maintenance. That means, check your website regularly, keep it updated and engaged to retain visitors. Remember that every visitor is a potential customer, and routine maintenance can be of crucial importance. If you tend to provide continuous traffic and strengthen Google rankings, your site should run smoothly all the time.
While building your website, think on the theme and plugins you will need to operate your blog or business, but do not waste your time on multiple installations of those without a clear purpose. Unnecessary tools, along with the various content you no longer need might lead to some issues which will seriously affect the work of your website and consequently your business. Keeping the website clean and simple means that you should occasionally clear out everything you no longer need.
How to Solve Website Issues?
WordPress offers a long list of user-friendly plugins which are supposed to help users by solving almost every issue. However, useful tools for image optimization or those intended to delete old posts revisions sometimes are not enough to unburden the website.
A careful checkup will show you which issue you should fix immediately, what can you do to improve the website performance, but remember that you will need days to do it manually. And why should you if there is a better solution? Sometimes, the best is to get back to default settings and start from scratch. WP Reset Plugin is equipped with standard and special features you can use at will and according to your needs while you keep the track of every change.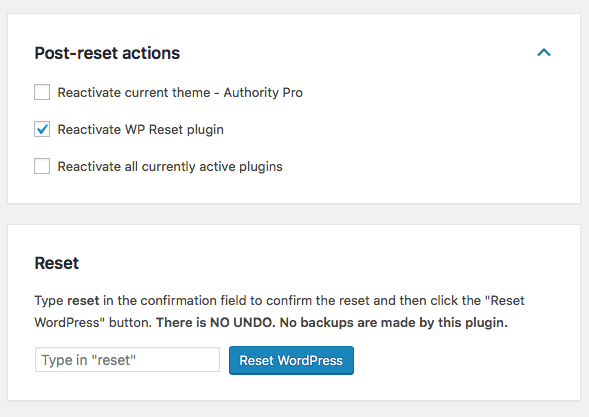 In that way, it is almost impossible to make a mistake and delete something you did not want to. If you are a web developer, you will prefer the command-line tool, while the other users' choice is single-click reset. In both cases, the best is to get introduced to WP Reset plugin in-depth. It features many different options providing you multiple choices on how to clean up the website.
Complete or Partial Reset
Complete reset is not always necessary when the website slows down or shows some other failures. As the owner or developer, you know best which part of the website should you intervene in. Selective reset tool is customizable to your personal preferences enabling you to get rid of specified content, individual tables, pages, or even comments.
You can use it instead of complete reset and retain what you need. With the less than a minimum of manual work, you can refresh the website and make it more pleasant users experience. Post-reset setup is completely adaptable to your personal preferences, which means – you can keep themes and plugins, for example. It is very convenient for those who had got used to the chosen website environment. Advanced features of the WP Reset plugin are more favored by developers. In a way, this plugin has brought relief because the original WordPress installation is available as many times as needed. It shortens hours of work when it comes to testing and debugging. These processes usually need to be done fast and soonest possible which is hard if the development environment is not supportive. Having the opportunity to conduct detailed check of an active website, preserving data, and still have the opportunity to develop in a default installation is what the users of the WP Reset appreciate most. Safety is one of its best characteristics since the files remain unchanged.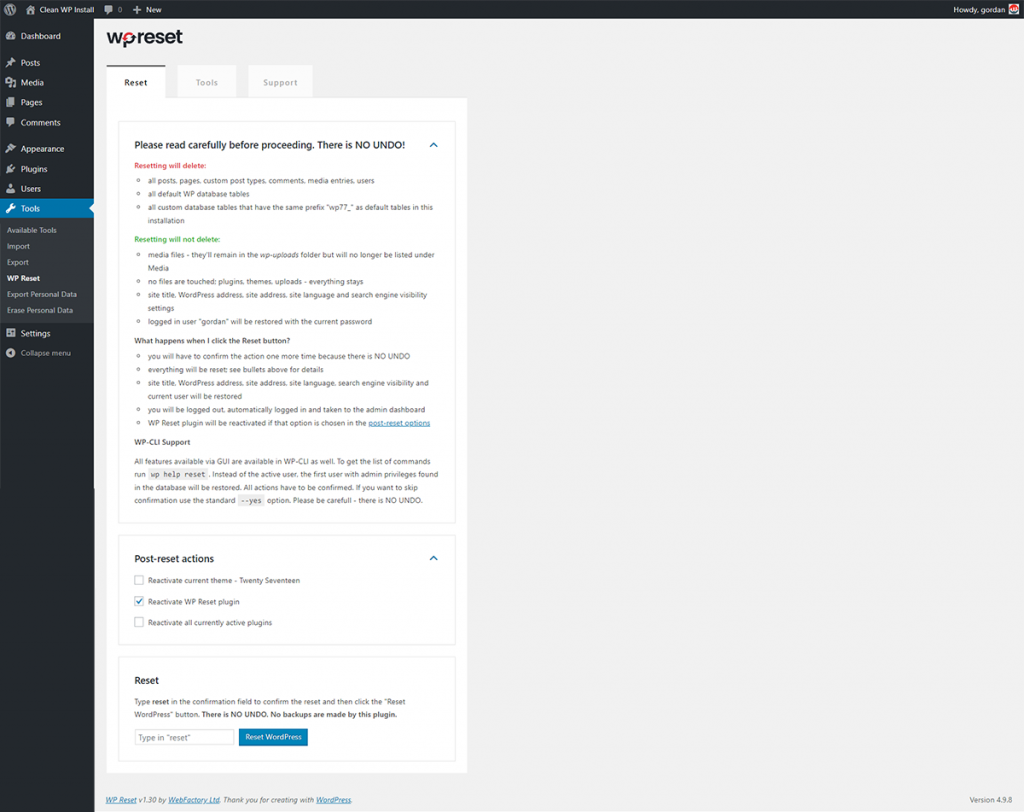 Website maintenance is a serious job to be done in different forms on a weekly, monthly, and yearly basis. If there is a while since you have the website, you probably have the check-list considering loading time of pages, security, backups, broken links, etc. Despite your effort to do everything by the book, you will need some improvements over time, and you will need the help of plugin to avoid wasting time and the risk of losing data. Using WP Reset plugin is safe. Multiple fail-safe mechanisms guarantee that while in-house support is in charge to provide help or answer the questions considering this open-source software. WP Reset is a fast, reliable and safe contributor to the well-done business.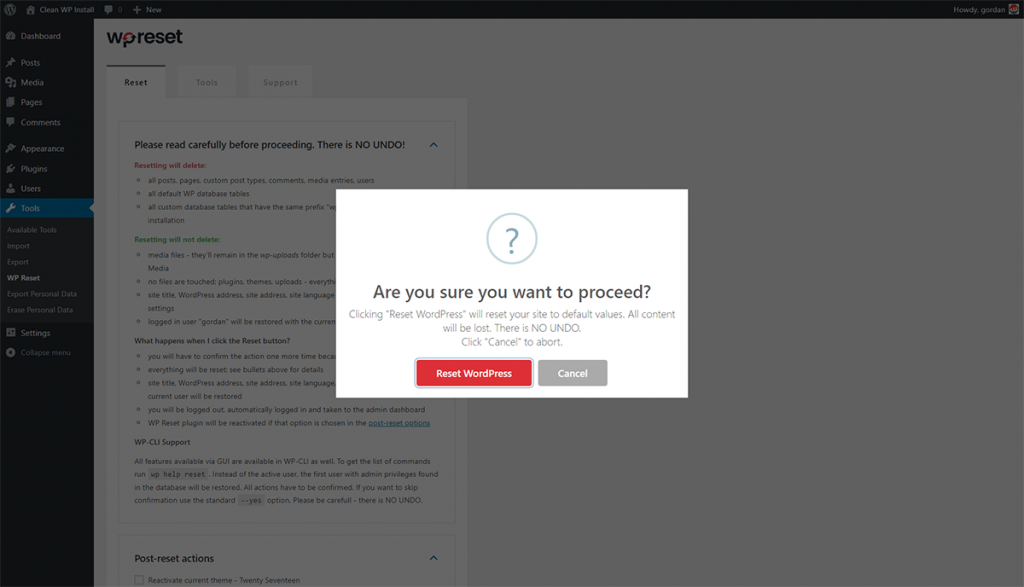 Proper website maintenance depends on a plan. Make it according to your needs and follow the dynamic of your website. Sooner or later you will have to clean it up, and every help will be welcomed. With such a serious approach, your website will consistently run smoothly and without any difficulties. Users experience is crucial for its success. You have already invested time and energy to build it, but remember to invest in website maintenance as well.