Do you go to a movie or restaurant without checking its reviews? Thanks to social media, our purchases are often influenced by reviews and ratings. Today, reviews are an important part of legal marketing.
Hiring a lawyer is a big decision. Many potential clients rely on word-of-mouth and reviews to help with their decision. A happy client is a law firm's best advertising.
Your law firm may be familiar with review-based websites like Martindale and Avvo. But, you can use client reviews in a more active way. Your clients' opinions and experiences can be a powerful way to extend brand identity.
Reviews on Third-Party Sites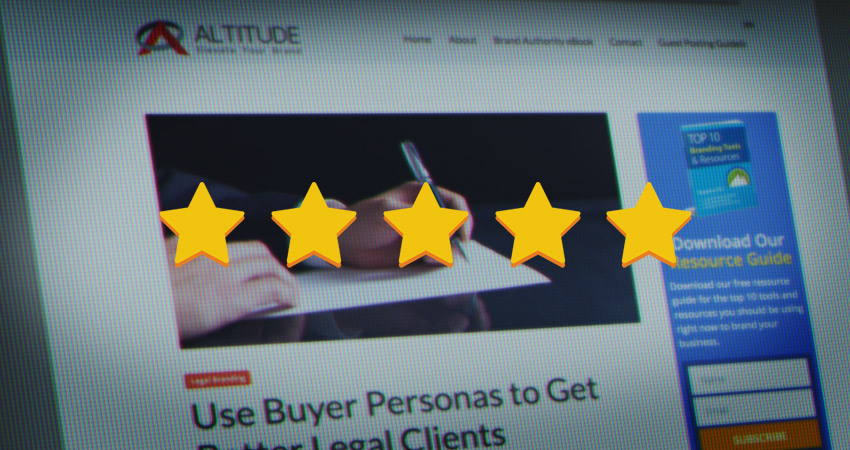 Download Branding Resources Guide
Building a brand starts by having the right tools and advice. Download our top 10 essential tools and resources to kick-start your branding.
Sometimes, clients will voluntarily post a review. These reviews often appear on third-party sites like Facebook or Yelp. These reviews can be sporadic and unreliable.
Everyone loves a positive review! But, your client's positive review may lack detail and marketing value. Which of these reviews do you prefer?
"My lawyer was great!"
"My lawyer kept fighting, even when things got tough. She always listened to me. I was surprised how quickly the other side settled! I have already sent friends to my law firm for help. Thank you."
Both clients were happy with their lawyers. Clearly, the second review gives more information to potential clients. You can't edit a client's online review. But, you can encourage happy clients to post detailed online reviews.
If you receive negative reviews, write a prompt and empathetic response. Encourage the unhappy client to meet with you, and work to resolve the issue. While you cannot make everyone happy, prospective clients will notice your quick and courteous response.
How to Create a Client Questionnaire

You should also create your own client questionnaire. At the end of a case, send each client this questionnaire. Information from a client questionnaire can be used both internally and for marketing purposes.
A client questionnaire is simple to make, and should ask open-ended questions. Potential questions include:
What did our law firm do best?
How would you describe your relationship with your lawyer?
How would you improve our law firm's services?
Would you hire our law firm again? Why?
Would you refer friends and family to us?
Would you like a free subscription to our email newsletter?
Can we publish your review on our website?
If you want to publish reviews, you must get the client's permission.
Client Reviews Can Show Strengths and Weaknesses
When you use a client questionnaire, you should analyze the responses, and look for trends.
Internally, these client reviews can be used to highlight a law firm's strengths and weaknesses. If a staff member is providing exceptional service, it should be recognized and rewarded. Similarly, if clients regularly complain of communication delays (or other problems), you should improve your processes.
Your clients' experience should always be consistent with your marketing message.
Client Reviews and Website Marketing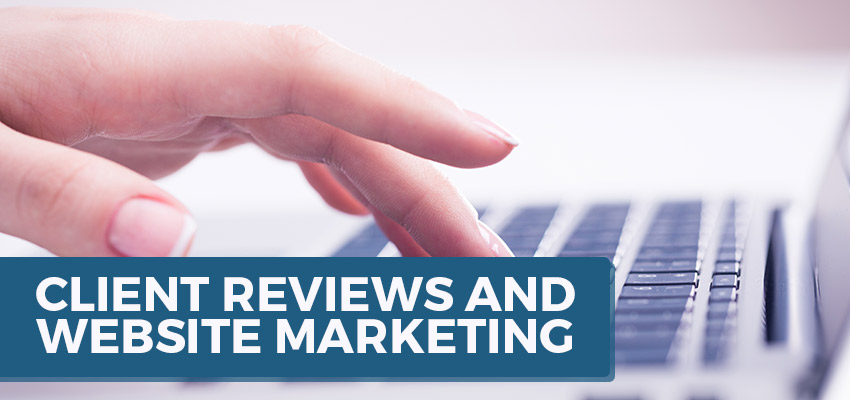 Again, a well-branded law firm's reviews will reflect its mission or identity. You can use these reviews to extend your brand.
Prospective clients value reviews. If the reviews are consistent with the law firm's message, they build trust. So, publish client reviews that express elements of your brand or mission.
For example: A personal injury firm prides itself in both its compassion and fierce representation. These characteristics are the pillars of its marketing message.
On its client review page, the firm has published these comments:
"I always knew I could call my lawyer for help. The firm helped me through my darkest hour—and negotiated a great settlement!"
"The insurance company couldn't push my lawyer around. I was in good hands. He never stopped fighting for me."
These client reviews match the law firm's message—and are particularly persuasive because they come from clients.
A well-designed law firm website should include published client reviews. Give your prospective clients insight into your firm culture and mission through client reviews.