Most of us dream of our wedding day for years. We have this image in our mind of what the perfect wedding is. However, we have no idea what goes into making that perfect event. There are a million details that must be addressed to make sure everything goes off without a hitch.
In our minds we see bridesmaids rushing around getting dressed, and the groomsmen in their tuxedos laughing on the steps of the chapel. What we do not give much thought to is the florist, caterers, DJ, minister or official, or the videographer. We do not think of the crews setting up chairs and setting tables, the cake being delivered, the limo driver or the bartender. There are so many ways to make wedding planning mistakes, but professionals are here to help.
There are a lot of talented people that must work together in order to give you that perfect day. We have interviewed wedding professionals from around the country to get some great tips and tricks that you can incorporate into your wedding. So let us share with you advice from the experts.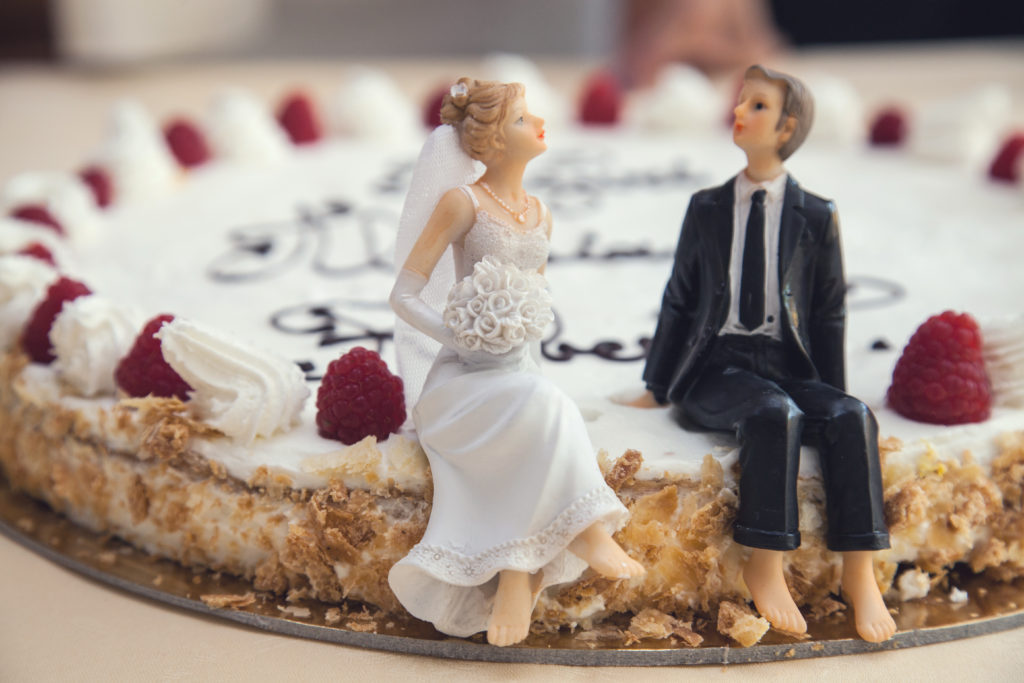 Download Branding Resources Guide
Building a brand starts by having the right tools and advice. Download our top 10 essential tools and resources to kick-start your branding.
Wedding Planners, Vendors and other pros
We believe in the importance of a good wedding planner. The vast majority of problems and issues that dance on the nerves of the bride and groom are easily dealt with by an experienced wedding planner. If you can only afford one luxury for your wedding day, we suggest you hire a wedding planner.
Karlee Jaramillo from Karlee K Photography shared her opinion about wedding planning:
"You're engaged! Congratulations! Getting started in the wedding planning process, the biggest tip I can give would be to decide which wedding professional is the most important to you. Maybe you've been following a photographer's work on Instagram religiously, waiting until it was your turn to let them capture your story in the dreamiest way. Perhaps you know that you could never do all the work alone, and having a talented planner who knows the in's and out's of making your wedding absolute perfection is your top priority. We all have that go-to vendor who we've just been waiting to reach out to ever since we met the right person, the vendor who fills our Pinterest board with our ideal wedding day. Reach out to that vendor before anyone else, and choose your day based off of their availability! I can't count the times where so many couples have been so disappointed because the vendor of their dreams was already booked, but you can avoid this! And to do so, you may have to compromise somewhere else! Say you envisioned a Fall wedding in October, but the photographer is booked solid through November. You may want to consider a Summer or Winter wedding, and that's ok! You will not regret making a small sacrifice in one area to work with someone who you know will take the best care of you when it matters most!"
Professionals Scott and Dana Halvorson of Weddings By Scott and Dana explain it best: "Dream weddings come in a variety of shapes and sizes, and to plan a truly memorable wedding can seem overwhelming. Here are a few tips to ensure your wedding will be an event to remember.
Know what you want: This is not just any ole wedding, it's your wedding. Talk to you partner and decide what type of wedding you both would really enjoy. Personalize your wedding to match your personalities. Starting with a solid idea of what your dream is will make all the other decisions easier.

Get Help: Armed with your dream in mind, search out the professionals that can turn that dream into a reality.Everyone you hire, from your planner to your invitation designer, should know what your expectations are. Hire people who have experience with your type of wedding, then trust them to do what they do best.

Consider your guest: Think about your guest and how they will experience your wedding. Taking time to make sure your guest will be comfortable, occupied, entertained, and appreciated will create an event they will remember for years.

Have fun: Plan to enjoy this special day. Everyone will notice and it's contagious. If you have fun so will everyone else. When everything is over, and you are reminiscing about your wedding, the fun you had is what you and your guest will remember the most."
Cassandra Key-Lyons of Bridal Magic advises brides on ways to lighten their load and make things run much more smoothly:
"My advice to couples planning their wedding: once you've made a decision, like picking your decor and color palette, stick with it. Don't cause yourselves stress and confusion by continuing to look at alternatives. There are plenty of options out there but go with your instincts and what you want as a couple. Pouring over wedding websites and magazines long after you've already settled on something will only muddle the process. Also, don't do something because you think you're supposed to. If you don't want a guestbook or to hand out favors with your initials on it, then don't. It's your wedding, so make it everything you want it to be."
Courtney Branson from Lovely Little Blog also shares the idea to keep it simple. The internet is flooded by the 'best wedding ideas' but what if the brides just stick to what makes THEM happy?
"Pinterest can be your best friend or worst enemy. It's great for sparking ideas and showing vendors your vision. It's tempting to let it go past that but I encourage you to plan the wedding that fits your budget and vibe. There's nothing less magical than realizing you're in debt day one of marriage or planning a wedding that feels disingenuous to your relationship. You want folks to say, "This feels so y'all". Don't let the Pinterest board cloud your instincts."
Betsy Tomasello, of Betsy Blue Photography, is in agreement on brides letting the professionals do what they do. That is the only way to get the best results. She says:
"One of my favorite ways to serve my brides is to include timeline assistance with every wedding booking. I've witnessed hundreds of weddings and am always happy to share my experience on when the best light might be for portraits, or possibly a more flattering position to angle the arbor in order to allow for the best light on the couple for their photographs.Planning a wedding is a huge undertaking, so why not rely on the experience of professionals around you to help plan your day to be as fluid and beautiful as possible."
When it comes to wedding vendors, photographers, planners, and other professionals, John Lennon of Lennon Photography had this to share:
"Look for vendors who have a passion for what they do. A typical sales pitch equals common quality. You deserve vendors who dream of the perfect wedding because those are the people who care enough to deliver it to you."
Trust your event coordinator to have some pretty cool ideas. They are up to the minute on wedding trends and traditions. Be open to their suggestions.
Kristin Rockhill, Wedding Stylist & Floral and Event Designs, has an eye for design and color. She says:
"Grey is my favorite color! When it comes to setting a stunningly styled tablescape my go to linen choice is grey. It pairs perfectly with wood tones, neutrals, pastels and even bright and cheery hues like lemon and tangerine!"
Sometimes we have to ask ourselves if we are creating the wedding we really want. If you want a small, intimate, gathering, then go for it.
As wedding expert, Maria Fernanda Marion of Blog da' Maria Fernanda points out: "keep it small. Small weddings are more intimate and cozy."
Lisa Gilbert from Lisa Gilbert Photography added:
"There are so many little details involved in planning a wedding and it can be exhausting. You need to prioritize their importance to you and then LET GO. Think about the last two or three weddings that you attended as a guest. What do you remember? The food? The centerpieces? How great the DJ was? Chances are, the things that stood out to you are the same things that will stand out to your guests, so stop worrying about the details that will fade (is anyone really going to remember the exact shade of your napkins?) and focus on the ones that are are meaningful to you (like keeping the dance floor packed). Then, let the people you've hired to take care of these details do their jobs, while you relax and enjoy the best day of your life!"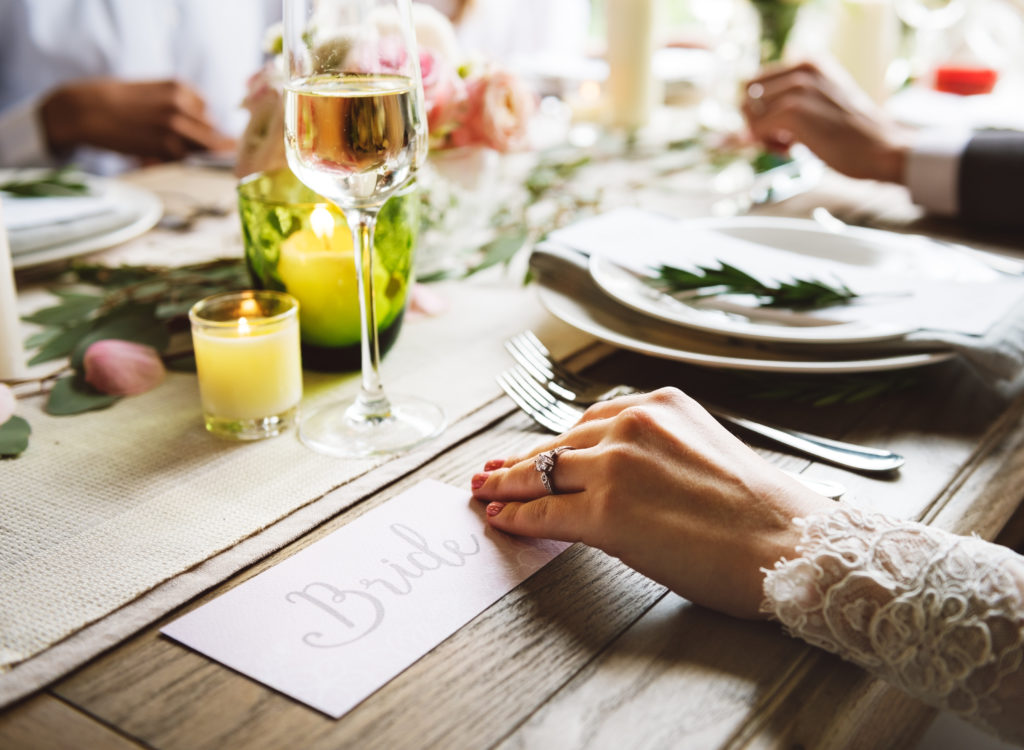 Venue
Alexis Wilkins, the wedding and event planner at Alexis Wilkins Events shared her opinion with us:
"My advice would be to fall in love with a venue and not so much a date. Many brides dream of a wedding on a particular date but when they find a venue they love their "date" may not be available. If you love the look and feel of a venue, the date won't matter as much to you."
Beauty
On this single day, you want to be the most beautiful you have ever been.
Take these tips from Nina Moran, Cheekadee Makeup Artist:
"Summer can be hot and sticky but let's keep the hot in our makeup and ditch the sticky! Whether you are doing your makeup yourself or having it professionally done, here are some tips to keep your makeup fresh on your big day!
Tone with witch hazel, we really like Thayer's, Witch Hazel. This will remove any unwanted oil that may interfere with the longevity of your makeup
Prime your skin- We love Tarte Clean Slate Poreless 12 Hour Perfecting primer. This product refines the skin, is waterproof and diffuses fine lines and imperfections.
If you are super oily you can use a mattifying product like Face to Face Super Matte Anti-shine. Just a bit it the t-zone will do.
Set your makeup with a setting spray! Our favorites are Model in a Bottle, or Makeup Forever Mist & Fix. This will really improve your makeup wear!"
Kelly Brown from lulaandsailor.com added:
"Search For The Dress!
Every Bride is different as is the journey of wedding planning. There may not be a "favorite" part of the wedding planning process but my from my experience last year; it was without a doubt the search for the perfect wedding dress. Most brides wouldn't take it quite as extreme as I did. Being a fashion blogger and wardrobe stylist I really wanted to document the process, especially because I visited thirteen stores. Yes, THIRTEEN STORES you read that correct lol. If I could give advice to a bride it would be to really take your time finding the perfect dress and take a lot of photos. Only you will know when you have found your perfect dress. Enjoy and savor every moment! "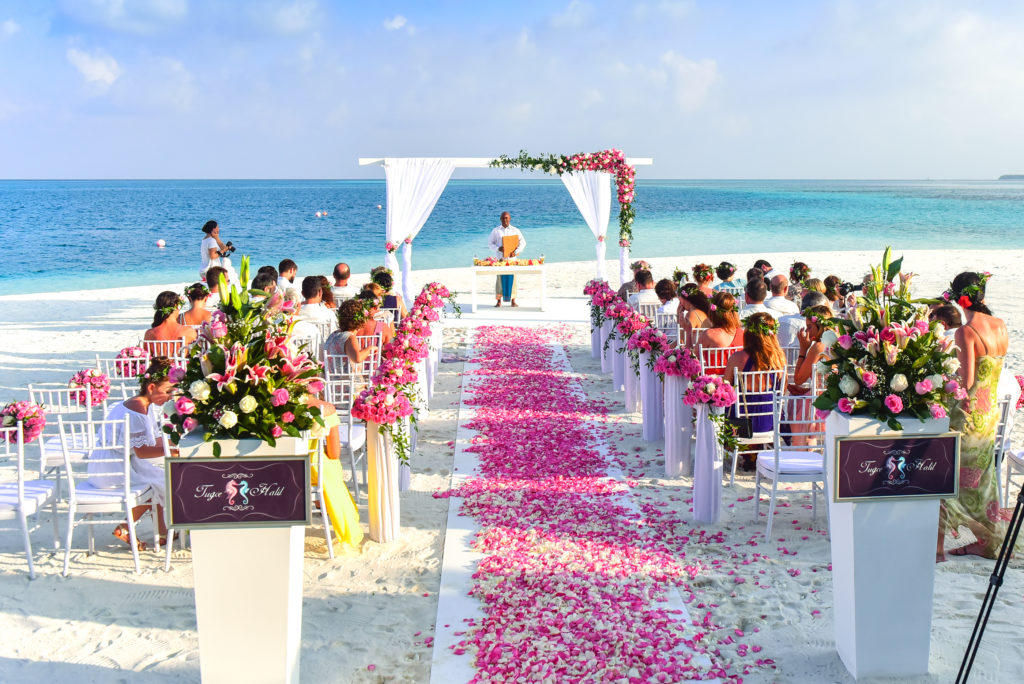 The Wedding Gown
Brides have to make sure to choose the perfect dress for the ceremony. Amanda Speed, the Managing Director Shades of White Bridal shared with us what she finds important about wedding dress shopping.
"Wedding dress shopping is one of the most exciting pieces of planning your wedding, so how do you get the most out of your experience? Shop early! Ordering in and altering a gown can take to 5-9 months. Book only 1-2 appointments in a day and be choosy with who you bring, too many opinions can be very overwhelming. Have fun, relax and be honest with your consultant about what's really important to you – allowing the consultant to really engage with your needs and vision will give you the best of his/her professional abilities and that's when the magic happens!"
Photography
Photography is a major priority for any wedding. This is a day that must be captured for eternity. Some day our great-grandchildren will look back on this day and we want them to see the love and hope we had for the future in our photographs.
Professional and devoted photographers do their best to make the wedding day special for the couple. Some of them even include a complimentary engagement session. Why is that? Angelina from Asterisk Photography replied to this question:
"We do this because it allows for 3 really basic yet crucial things to develop: Consistency, relationship, and trust.
These 3 items are so important to have with your wedding photographer –
First – having the same photographer shoot your wedding and engagement allows everything to be seamless and consistent. Brides usually pick their wedding photographer because they love their style – by having the photographer do both, your wedding style really shines through.
Secondly – Relationship. Hmmm. this is a big one for me! I love shooting weddings because of the relationships I get to form with my couples. The more I know my clients personally, the better I know how to serve them well.
This leads to our final reason: Trust. We all know that every relationship is built on trust. During that engagement session time, you're able to build trust and relationship in a casual setting, the wedding day pressure isn't around so you and your fiance are freed up to have fun!"
Ayyyna Budaeva from Mango Studios added:
"Your day will come and go very quickly, remember to sit back, relax, don't sweat the small stuff and enjoy the moment. Coordinating a wedding can be stressful but stay calm and focus on the big picture, and your photos! A wedding is a gathering of your closest family and friends in one room to celebrate your love and commitment to each other, celebrate that and live in the moment in order for your wedding photos to look organic, natural and effortless!"
Alicia Williams from Cordele Photography emphasizes the importance of referrals and some research before hiring your photographer. But most importantly…
"First, Relax! Rome wasn't built in a day, and neither is a wedding! Research, ask friends and use google! Friend referrals will give you a good sense if you like the vendor because you like the referrer. Also, take notes at events and weddings you attend. Look at season color palettes Check out Color Me Pretty! Talk to vendors and see if you jive with them. Especially the photographer! They may take pretty pictures, but you want to have fun with them, they follow you everywhere!"
Bethanne of Bethanne Arthur Photography offers this advice for the couples:
"When searching for a photographer to capture your big day, keep a few things in mind.
Can you afford this photographer?

Are you willing to expand your wedding photography budget if you find your perfect match, in regards to photography style?

Do you feel comfortable with them?

Does your fiance feel comfortable with them? Do they seem personable?

Does this photographer seem to treat clients and events as just transactions, or do they try to get to know you or find a point of connection?

Do you love their work? It is so important to choose someone that actually has a photography style that you love

.
These are your wedding photographs; these are priceless heirlooms you will have for the rest of your life and beyond, as they are passed down through the generations. Do not just hire someone because they are the least expensive, someone you know is friends with them, or they have 10,000 followers on Instagram. Choose a photographer that shoots images you love and swoon over; choose a photographer that you feel like you can connect with!"
Jillian McQuerrey, the owner of B.O.B. Photography, agrees with Bethanne about that special connection between the bride and photographer. She shared: "One tip I can wholeheartedly recommend is to do your research. I always tell couples I speak with to chat with more than one photographer. After that, choose the photographer you "click with", love their work and feel comfortable around. If you think about it, you will spend more time with your photographer on your wedding day than your significant other. So you want it to be an enjoyable experience. The more comfortable you are with your photographer, the more natural your photographs will look."
Many brides try so hard to control everything, for forget that they have hired professionals to relieve them of that stress.
This point was driven home by Betty Simpson, of Betty Elaine Photography, "Trust your photographer and other vendors! Yes, it is your wedding day (hooray!), but you do not need to be burdened with having to control the day or schedule out your timeline by yourself. Once you know what your wedding day is going to look like (location, ceremony start time, etc), it is important to talk to your wedding photographer about how much time they need for pictures. Let them draw up a schedule for portraits and help you figure out when hair and makeup should be finished. Your photographer will know the best time of day for outdoor pictures, how long you need them for getting ready pictures, and if a first look would be more practical for your wedding day."
There are always little budget busters that manage to show up with weddings. Take care of small things and the big things will take care of themselves. The main thing is to have your day, have your memories, and have fun!
Here is a great tip by Jenna Henderson, of Jenna Henderson Photography "While wedding planning, don't forget to budget a little money for after the wedding to use for prints of your wedding photos! After all, when the whole day is over, the photos are the only thing that will remain. You want to make sure you have enough cash stashed away that you can give your beautiful memories the treatment they deserve, whether that be in the form of a fine art album or perhaps a gallery of large framed prints. Printed photos also make a great gift for your parents as a way to say thanks for all of their support."
Brandon O'Neal, of Brandon Oneal Photography, says it like this:
"As a photographer, I see weddings as a dance between preparation and chance. We like to allow the celebrations unfold naturally, but we often manipulate the timing and locations ahead of time so they work out in our favor for great images.Prepping for the day is essential- create timelines, do the meetings, set up the vendors. But, when the day comes, my biggest advice is to enjoy it no matter what. Brides put lots of time and energy into planning the day and it would be such a waste to not enjoy it. I want to photograph my brides and grooms having the time of their life, not micromanaging every detail and worrying about the flowers being just right – that doesn't make for great images. So plan, then let go!"
Wedding photography is an art. So much depends on the location, timing, lighting, and ambiance.
Leslee Mitchell of Leslee Mitchell Art is an artist and photographer. As such, she has a wealth of knowledge she was gracious enough to share. She says:
"Light is 100% of every photo. It's not 99%, it's 100%.
Don't let family photo time eat up more time than necessary. After all, the most important photos of the day are the ones of the bride and groom. No wedding is complete without the family photos, but family photos do not have to monopolize a majority of photo taking time.
However long your hair and makeup artist tell you it will take to complete hair and makeup, add at least 30-45 minutes. It's common for hair and makeup to run over on schedule. When hair and makeup run over, you will receive fewer photos due to lost time that cannot be recovered.
Just relax. The most beautiful photos are the candid shots. Make a point to not know where the photographer is every second of the day. Chances are they're somewhere looking right at you through their lens. Don't mess up what could have been a beautiful, candid moment of you because you're scanning the room looking for your photographer or trying to figure out if you're being photographed.
If you hate being photographed to the point you almost break out in hives have a cocktail and relax. If you can't relax, you will appear tensed in your photos. Don't be hard on yourself. The majority of people are uncomfortable when they're being photographed. Have a plan in place to be able to relax when it's time to be in front of the camera. You'll be very glad you did."
Communication is key when it comes to your wedding. Details must never be left to chance. This tidbit from Leigh Fabozzi of Leigh Elizabeth Photography is right on the money! Leigh says,
"Maximize your photographer's coverage by creating a timeline in advance. Make sure to sit down or have a phone call with your photographer about a month out from your wedding to finalize the timeline. Ask questions, iron out the details, and get on the same page. This will ensure your wedding day runs smoothly and stress-free!"
Carly Fuller from Carly Fuller Photography shared the idea of picking your home as a location for engagement photos. She stated: "Stay at home and capture your first professional photos in your first home together as a future married couple! One of my favorite places to capture a couple is in their own environment. All your favorite things surround you and even kitties are welcome!" By doing so, the engagement photos will be natural, and they'll reflect your true personality.
Our Favorite Tip
Throughout the rest of your lives together, there will be issues and situations that monopolize your time. Take this advice from Candice Benjamin of Candice Benjamin Photography. Make this a habit throughout all of life's challenges and you will always be content.
Candice simply states: "Have a weekly date night where you aren't allowed to talk about the wedding. Enjoy your time together!