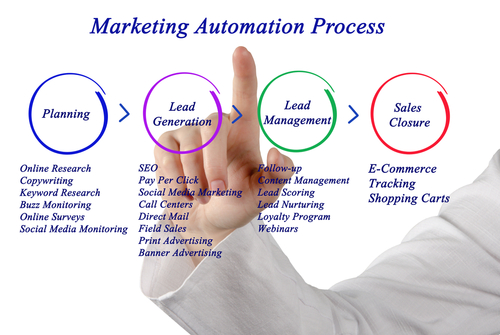 You can't rely on SEO alone to improve your brand. You must think out of the box and innovate. The goal is to be memorable, trusted, and known by your customers.
That's where combining an effective traditional marketing approach to an existing digital method becomes a more effective solution. The secret to branding is perfectly explained on https://one-400.com/branding/.
Combining direct mail and SEO bring tremendous value to your brand. Here's how:
Download Branding Resources Guide
Building a brand starts by having the right tools and advice. Download our top 10 essential tools and resources to kick-start your branding.
Set your goals
The first step of putting a marketing strategy in place is to set a goal. You must decide what you are trying to achieve.
Is it to —
Raise awareness
Increase traffic
Build social following
Increase sales
Demonstrate your value proposition
Invite people to attend an event
You must draw out the ideal scenario as well as your expectations for results. You can do this by building metrics and/or defining how you will measure success.
Set a budget
Every campaign costs money. The new marketing strategy you're going implement must work within your allocated budget. You must know how much you're willing to spend on it, then work within that range.
Having a financial control point in place will save the business both on the short-term and the long-term. It avoids unnecessary financial movements between operations and sales as well as keep the outlook close to the goal.
On the other hand, setting a specific budget allows you to define the scale of the new marketing effort. You'll be able to define further your outreach within the set budget and then manage realistic expectations.
Identify your target audience
The thing that makes or break a direct mail marketing campaign is an incorrect audience. You must have a solid understanding of who you're trying to reach. And then narrow it down to specific demographics, for example:
Age group
Income range
Gender
Profession
Interest
Industry
Location
Niche
Budget
The key is to not overcomplicate. The goal is to know who you want to have a conversation with if it was a face-to-face meeting. These people are the ones who will respond to you when you bring up your subject. They're your 'ideal' customer.
Inaccurately identifying your ideal customer is a waste of money. It will not translate to results, thus, yields to a low conversion rate. To avoid this, you will need to do some diligent and correct research. Otherwise, your ROI will be greatly impacted.
Create a list
As soon as you have a solid definition of who your target audience will be, then it's time to build a list. You can tap on your existing mailing list and/or employ lead generation tools. There are a lot of companies who provide lead generation services.
You must obtain these pre-existing lists and clean the data manually. You can put it together on a spreadsheet and match your ideal customers via LinkedIn as a reference.
This requires time and effort, but it will help you understand who you're reaching out. It also enhances results and avoids unnecessary costs, which can be channeled elsewhere in the business.
Employ appropriate design and effective copy
Construction of the mail requires two very important elements: appropriate design and effective copy. These two must be present in every direct mail package. Otherwise, your target customers will send your mail straight to Spam or Trash. Think about what you're going to do if ever you're the one receiving that mail.
What this means is that the direct mail package should have the most accurate design that represents your brand, goal, and intent. It should have a concise and direct to the point message. And most importantly, it should have a call to action.
Tell your audience to action
The call to action piece in the message of the direct mail package is the most critical. It translates to results and conversion. Without this, your ideal customer will simply read the mail and close it when done.
Telling your audience to action works both ways:
It gives you an opportunity to convert customers into a sale or a result
It gives your customer an opportunity to explore your brand and/or the information better
Your call to action should encourage your customers to do a specific task. That said, it should be very strong, distinct and easy. You can use simple messages, such as:
Click the link for more details
Call us for a free demonstration
Contact us for more information
Sign up to avail of the discount
Implement an SEO strategy
Integrating an SEO strategy into your direct mail campaign increases traffic to your website. You will need to leverage online traffic to tap on these mortar events and/or locations and increase offline traffic. This is very much possible considering your specific and distinct demographics.
It can target these demographics through Google My Business listings, optimized keywords, NAP citations, individual pages, etc. There's a ton more information about how local SEO strategy improves branding on theseomarketingcompany.com.
Follow through
Direct mail campaign doesn't end where customers receive them and performing an action. To sustain the strategy, there must be continuous and consistent engagement. This means that a follow through with the audience is required.
You won't be a 100% certain that your audience will react appropriately to you direct mail package, regardless if you have an appealing direct mail package and a very convincing call to action. A nudge, continuous awareness, and push into the right direction can turn this audience into expected results.
Analysis
Analysis is one of the most important step on your marketing strategy. It allows you to keep track of who among your audience actually responded, identify areas you need to improve, determine cycle time of response, and take necessary actions to improve.
You can employ different methodologies to analyze the numbers as well as your results. Some examples are:
Multivariate tests
A/B Testing
Website activity methods
Conclusion
Combining direct mail and SEO is crucial for brand improvement. It is one of the most effective marketing strategies that actually translate to results. Doing this is tricky and can require a lot of resources, effort, and costs if not planned and executed properly. These steps help you run a successful direct mail marketing campaign to improve your brand.