Building a strong relationship with your customers is an essential phase of business. If you can satisfy your customer's demands, it can be said that you are near the closing phase to achieve success and generate revenue. 
Organizations prefer to use different marketing tools to maintain strong customer relations. These tools help to organize business strategies and enhance the marketing approach by focusing on customers' interests.
Every company looks for the tool to optimize their tasks, manage the information, track customers' interests and be on top of this competitive world. 
Mail Chimp, HubSpot, Google Analytics, Trello, KISS metrics, etc are the most used marketing tools. From all the above, HubSpot- all in one marketing tool commonly used for the purpose of sales, marketing, and customer services. More than 1500 companies are using HubSpot in approximately 90 countries. Because of its popularity, you can understand there are a lot of HubSpot alternatives as well.
Download Branding Resources Guide
Building a brand starts by having the right tools and advice. Download our top 10 essential tools and resources to kick-start your branding.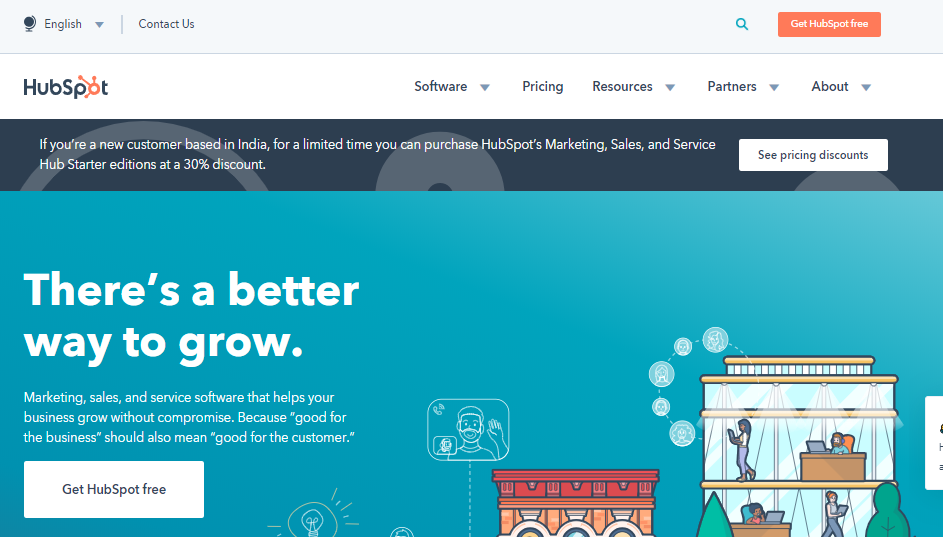 Source: HubSpot
Are you a business person or a marketer? If yes! Then you might have heard about HubSpot inbound marketing tool and its robust features that attract the marketers most.
HubSpot Marketing is totally based upon the inbound strategy and it uses the inbound methodology for any marketing automation.
Let's have a glimpse idea about an inbound marketing strategy. 
Today, Inbound marketing is leading the business world as it is the best way to attract, delight, and engage clients. By using HubSpot inbound holistic strategy, you can easily build trust to enhance your business revenue and convert your potential customers into leads.
Are you currently using any marketing tool to nurture your customers and manage your business activities? Are you the one who wants to develop trusted relationships by engaging more with the customers?
HubSpot's inbound marketing platform will definitely fulfill your desires as it is considered the hidden gem in developing a better relationship with customers.
HubSpot CRM termed (Customer relationship management) is a sales automation tool that helps in accelerating your company revenue by managing your organizational details.
In this target-based world, most organizations prefer to go for Free services to proliferate their ROI. Are you the one who gets attracted to FREE! FREE! FREE!
Close your eyes, migrate to HubSpot, and start learning its CRM functions.
Let's evaluate more about HubSpot CRM.
There are robust features of HubSpot CRM that makes it identical to other management and customer relationship tool.
As per the survey conducted by TechNewsWorld, more than 500 organizations are using HubSpot CRM over other contact management tools to realize their goals and achieve business success.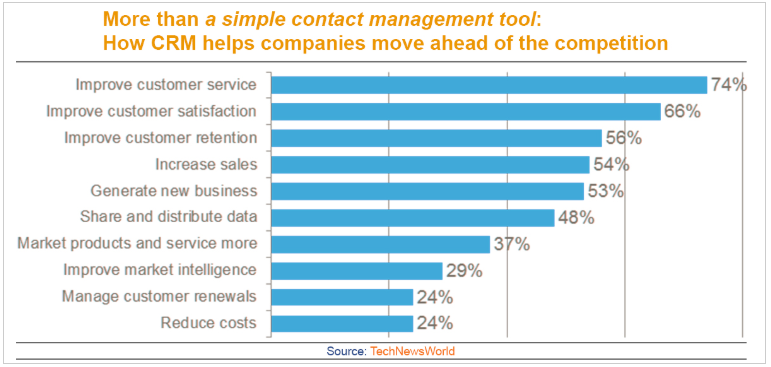 Source: TechNewsWorld
HubSpot CRM Divergent Features
Let's take a look at its identical features which grab the attention of marketers towards itself over other customer service tools. 
SalesForce Automation
Automating the activities is an easy and quick way to complete your task. It will save your company time, drive growth and reduce your efforts. 
WANNA! Automate your marketing services? 
HubSpot CRM has an inbuilt automation feature which makes it different from other management tools. 
This feature helps you to manage sales opportunities, sales pipeline of individuals, business tasks and activities. You can also assign the due dates directly from google calendars with just a click.
We all know that Emails are the most common way to communicate with customers. Instead of sending individual emails to customers, you can create contact-based workflows to generate automatic emails to notify your customers and interact on a daily basis. 
HubSpot CRM is a centralized tool that helps to easily store, manage and view customers details from anywhere. You can also do the amendments and manage your customer's contacts effectively. 
Customer Support
The primary objective of the organization is to manage the customer's information in such a way that they do not have to face any difficulty while maintaining content and get notified with updated information. 
Do you wish the same? 
HubSpot CRM will assist you to manage call script, track the customer's issues and deliver a proper response to clients for clearing their doubts. 
It is essential to optimize customer support as it will help you to become a good marketer. By using the Support analysis feature of HubSpot you can analyze various customer support activities such as customer experience, ways to deal with difficult situations, etc. to gain in-depth knowledge about customers' interest.
Once, you are able to evaluate the customer's interest, you can build deeper relationships with the client by providing informative and good quality content. 
Reporting and Analytics
Tracking your sales revenue plays a significant role in generating business productivity. 
Till now, I can't visualize any tool which provides both reporting and analytics feature with other management tasks other than HubSpot. 
However, HubSpot CRM will help you to evaluate your sales revenue projections via forecasting, reporting, and dashboard feature. By using this feature you can create ad-hoc reports to maintain your company's informative data. 
Dashboard feature of HubSpot CRM helps you to keep a glance at your website performance, its Likes, dislikes, etc. 
Therefore, you can easily evaluate whether your customers are interested in availing of your services or not. 
Integration
It is another feature of HubSpot which makes it dissimilar from other tools.
Currently, organizations that are unaware of this feature are still finding a way to get more traffic from social networking sites like Facebook, Instagram being on the marketing platform because there are near about 2.32 billion potential customers who are currently active on Facebook. 
HubSpot is the best marketing tool that integrates itself with other social networking sites. Once you integrate social sites with HubSpot, you can directly import the client's information from one platform to another in a structured form. It will further improve your system functionality.
Currently, using other sales marketing tools for building customers' trust? Worried about how to migrate with HubSpot CRM?
Fear not. 
HubSpot CRM provides the feature of integrating with other customer service and sales management tools such as Salesforce. 
You just need to follow the steps to install the HubSpot- Salesforce integration or to connect your Facebook ads to HubSpot.
Templates, and scheduling
HubSpot also includes the characteristic feature of making email templates scheduling. This feature helps you to arrange your organizational activities such as meeting with your clients, lead and campaign management, etc. appropriately. 
HubSpot CRM helps you in creating deals, tasks, and contact insights to build a better relationship with your customers without paying a single penny. 
Till today I didn't find a tool that can perform all such activities at one particular place. I believe that it is the best way to grow your business sales without making any compromise with time and cost. 
Due to all these alarming features of HubSpot CRM, It gets the Top-1 CRM software product award and also the best CRM software in the 2018 award from finances online.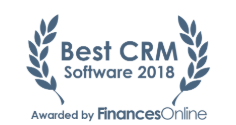 Source: finances online
All these divergent features of the HubSpot platform will help to provide relevant content to the customers at the right time appropriately. 
How HubSpot CRM helps small business?
Now, let's run down to the benefits that small businesses can reap by using HubSpot CRM. 
Provides plenty of Free services

Social media integration to successful outreach to

generate more traffic

.

Website integration to notify your leads

Centralize and manage data at one place

Helps to track prospect activity

Keep track of communication, services, and products.

Helps to get real-time updates

Forecast your sales process

Organize the contact information of your clients, etc.
By availing all these benefits, you can upgrade your customer retention rate by offering better services to your potential customers. 
Additional Information
Including all these features, HubSpot- Marketing tool provides some additional services which will help your team members in performing business tasks more accurately, effectively and efficiently. 
Pay little and get more!
HubSpot is the only tool that provides a lot of services at such an affordable price.
Take a look at the HubSpot CRM Pricing plan.
| | |
| --- | --- |
| HubSpot Plan  | Cost  |
| HubSpot CRM Free | Free  |
| Starter | $50 per month  |
| Professional | $400 per month |
| Enterprise | $1200 per month |
Being a HubSpot user, I recommended you to avail HubSpot Sales Hub features for managing more specific elements of your campaign and improve the connection with your desired customers. Furthermore, it can be said that-
The more your Pay, the better you Get!
Final Remarks
Without any traces of doubt, one can say that HubSpot CRM is the precious gem of HubSpot Inbound Marketing and Sales automation tool. 
To generate more clicks in the first go, Use HubSpot CRM because, in this dynamic world, it is the only tool by which business leaders and marketers can perform various tasks at one centralized place. 
Therefore, to run in the race of the marketing world and reach on the curve, you need to predict the top 5 social media marketing tactics as it will help you to define and outreach your customer's interest in 2019.
By looking at the trends and interests of persona- it can be said that execution, formation, management, and organization of content are essential as it helps you to understand, measure, monitor, identify, map and nurture your leads to enhance your marketing, sales, and services process in a collaborative form.
I hope all the defined facts and figures are sufficient to support how HubSpot, especially HubSpot CRM, helps marketers to build an acquaintance with their customers who are going to be their sales promoters in 2019.
About the author
Usman Raza is the co-founder of a Christian Social Media Agency and marketing strategist working with various brands online. Usman is the content marketing manager at SeedX Inc in Los Angeles, Best PSD to WordPress, and Nano Hearing Aids. He is devoted to helping small businesses bridge success gaps by providing in-depth, actionable advice on digital marketing, SEO, and small business growth. Follow him on Twitter @usmanintrotech.