A brand story is not a marketing tactic. It's not an advertisement material, either. Instead, storytelling helps you build a strong brand identity. Not only does it attract customers to your brand, but also evokes emotions, builds stronger relationships, and inspires loyalty.
However, to get the most out of your brand story, you need to make it consistent. You need to establish a unique voice, tone, and visual identity- the one that sets you apart from the rest.
Now, if you have a single-location business, achieving this is not that difficult. But, if you're running a franchise business that is operating in multiple locations, well, this adds additional complexity. You need to localize your marketing efforts to cater to local audiences and, at the same time, unify them into a cohesive and authentic brand image.
Here are a few tips on how to do so.
Download Branding Resources Guide
Building a brand starts by having the right tools and advice. Download our top 10 essential tools and resources to kick-start your branding.
Build Consistent Brand Image
Franchisees are interacting with your local audiences daily and understand their needs, preferences, and frustrations better. So, letting them unleash their creativity and adapt your brand story to local customers is important. On the other hand, you need to make sure that their link with your brand won't be lost.
The solution to this problem is simple. First, you need to have a clear small business idea and know how to turn it into a brand.
Even though it consists of numerous branches, you need to observe your franchise business as a wholesome brand. Each aspect of your brand identity, from the visuals you use to your brand voice, needs to be implemented into franchisee marketing efforts strategically. And, this is why you need to create a clear brand style guide.
With the branding guidelines, you will make sure each of your franchise locations creates authentic content and, at the same times, remains loyal to your wider brand image. Otherwise, your brand will become diluted and won't be perceived as trustworthy.
Here are a few elements detailed brand guidelines should contain:
The publishing frequency for your blog and social media channels

Using visuals on your blog and social networks (image size, filters, color palettes)

Your voice and tone consistency. Do you want to be punny like Wendy's or helpful like Domino's? Once you choose your brand voice, you need to use it consistently across all online channels.

Crisis management guidelines. Franchisees should know how exactly to react, what steps to take, and what language to use when handling issues that may harm your brand.

Using brand assets, such as your colors, typography, or logos consistently
Sell Stories, not Products
Coca-Cola doesn't sell carbonated soft drinks. They're selling Christmas, positive vibes, and friendship.
TOMS is not all about shoes. They've built their brand story around helping people in need.
Customers love brands that stand for something relevant. Statistics say that 86% of customers expect a brand to be socially responsible.
This is what you need to keep in mind when building your brand story. Having quality products is nice, but, to really engage your customers, you need to have a cause.  
Just like Coca-Cola or TOMS, many franchise businesses have adopted this approach.
For example, the UPS Store proves their community commitment by funding the Toys for Tots Literacy Program. They also emphasize that their business is built on the principles of environmental sustainability and that socially-responsible franchises can greatly contribute to the local business ecosystem: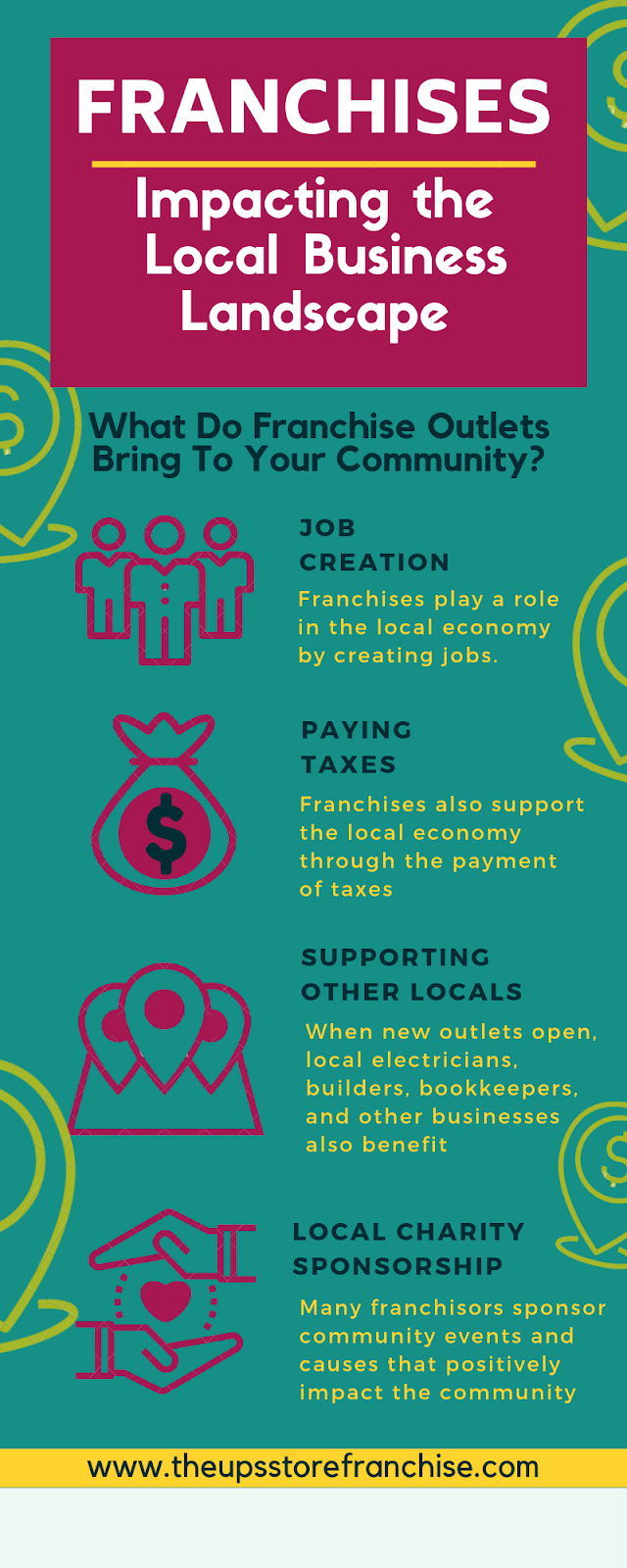 McDonald's takes a similar approach. On their site, they emphasize that they're proud to be a part of the community they serve. As a result, they finance numerous events and charity programs, such as Ronald McDonald House Charities, McDonald's HACER National Scholarship, and so on.
Humanize your Franchise Brand
Using your social networks to publish the behind-the-scenes photos of your staff and posting employee testimonials and stories on your site, you will show the human side of your brand and connect with your target audience on an emotional level.
McDonald's is a great example of how this is done. For example, on their parent site (mcdonalds.com), they have an entire "Meet Our People" section, where their employees share with the public why they love working at McDonald's. Both in textual and video formats, these testimonials come from real people, someone both their customers and potential employees can relate to.
Most importantly, they managed to adapt their story and values to their local markets. Visit the German version of the site (mcdonalds.de) and you'll see similar testimonials from their German employees.
Get your Customers to Tell your Story
Studies show that the majority of your customers trust online reviews as much as personal recommendations. The Spiegel Center research claims that 95% of customers read online reviews before making a purchase. Moreover, 92% of online consumers emphasize that reading a review online impacts their purchase decisions.
So, here are a few ways to use customer reviews to build your branding efforts.
Create a dedicated landing page for each business branch. It's important to put your business in front of the right local audiences and build relationships with them. Also, don't forget to keep your brand name consistent across these pages to prove you're a legit brand. By encouraging local customers to post user-generated content, leave comments, and review you on your social media pages relevant to them, you will create buzz around your brand and build trust with your potential customers.

Claim your Google My Business listing for each location

. Getting reviews and ratings on Google is an amazing way to boost brand authority.

Share UGC on each franchisee's site. This is a great way to prove show how your product resolves specific customer problems. For instance, Coca-Cola is killing it with user-generated content on their multiple websites. On their main site (coca-colacompany.com), they have "Moments of Happiness from Our Readers," where they share their comments and photos. If you visit their German domain, for example, you will see a similar section with customer photos, too.
Conclusions
Storytelling brings value to your franchise brand. When implemented properly into both you localized and overall marketing efforts, it will give your brand credibility and drive customer engagement. So, don't use it to tell how awesome your products are. Focus on your history, missions, and values. Prove that you're a brand for humans, the one that cares about giving back. Above all, let others tell your story. Positive word of mouth spreads fast, so don't forget to encourage customers to review you.
How do you build your franchise brand story?