Everyone who has ever tried it knows that getting on the first page of Google search results is not easy. But, on the other hand, it's far from impossible. As experts have shown times and times again, reaching the top results can be achieved very quickly if you know which road to take. Just thinking about the need to find the right (meaning unique but still highly competitive) keywords is enough to realize that patience is indeed a virtue when it comes to the search engines, but there are a lot of other tasks you can perform to boost your website and thus increase the speed of this process. The internet is full of highly doubtful tactics that can easily backfire – the only way to rank a website quickly is to do it naturally, with so-called white label SEO. In other words, it's important to realize what exactly Google wants from you and what is the quickest way to provide that.
The beginning of a beautiful friendship
With all those algorithms changes Google has been announcing it may seem impossible to figure out what exactly you're supposed to do. As soon as you start adjusting your website to certain requests the new ones seem to appear from nowhere. it almost seems if someone has been intentionally keeping you in the dark – well, it might be something like that. Think of Facebook – if you want to gain access to the information about someone's page you need to send the friend request, or you are forced to monitor all his/hers posts closely and try to catch every bit of information you can.  Same goes for Google – if you want to rank faster you need to make your website become Google-friendly. Google doesn't accept friend requests, but you can achieve the similar result through Google Search Console. This is a free service designed by Google to make your website's research functionality more manageable through the collection of reports and tools that will enable you to find and correct errors and create a better strategy to optimize your rankings. Basically, with the beginning of this friendship, Google will be able to find your website more easily, and you can even request for a friendly favour of force crawl every time you make changes to your website.

Every person leads to a machine (and vice versa)
This may sound like a post-apocalyptic setting of some sci-fi movie, but today it's simply a reality we live in. If you don't have an account on social media networks it is almost as if you don't exist. True, you can be a rebel and promote face-to-face conversation values, but when it comes to the visibility of your business you'll need to make an exception. Google wants to see you on social media – the interaction with your customers through these platforms is a very important factor for your ranking speed. The more links you build, the faster you'll land on that first page. And while high-quality link building takes a lot of time,  linking your content to social media can easily make it spread like fire. All you need to do is to identify social networks your target audience is on and to keep your posts public. That will produce shares and instant traffic which will automatically rank you higher and faster. The level of your engagement on social media is a decisive factor when it comes to the amount of useful linking you'll get.
Download Branding Resources Guide
Building a brand starts by having the right tools and advice. Download our top 10 essential tools and resources to kick-start your branding.
Now for the vice-versa part, which comes with few modifications. Maybe every machine leads back to a person, but when it comes to platforms this doesn't hold water. Today people use various platforms for their searchings, the smaller the better, and being mobile-friendly has become mandatory already in 2015. That's why having the responsive web design has become a major ranking element. It provides the same quality of user experience on any device and there is no variation in loading time. And you don't have to ask Google in order to know that your rankings highly depend on whether your users enjoy spending time on your site – finding content and links easily and quickly – or abandon the ship with frustration after it failed to load in 3 seconds.
Word, words, words
And now, back to those keywords. If you ever wondered why Shakespeare's 'Hamlet' has been staged for over 400 years you've probably noticed that it's very opened to various readings even in this modern age. And all that variety comes from a single Hamlet's line in the second act of the second scene – 'Words, words, words'. It is not so much about what Hamlet is reading, but how he's reading it – people interpret words in various ways, having their own associations, and this becomes very apparent in their online searches. Some of them type in very obscure phrases that have low competition levels, and others type combinations with already high search volume. Your goal should be to find keywords that are somewhere in the middle and a tool from Google called Keyword Planner can be your greatest ally in this ordeal. It will also help you with your grammar – yes, if you haven't noticed, Google is also monitoring your language use and sentence structure. If they have a spammy and wonky ring they'll certainly not speed up the ranking process, so don't let bad English stand in your way. Being precise always leads to greater speed, so it would be wise to also include modifiers – even if you're not tied to a certain state or area branching your pages is certainly a plus.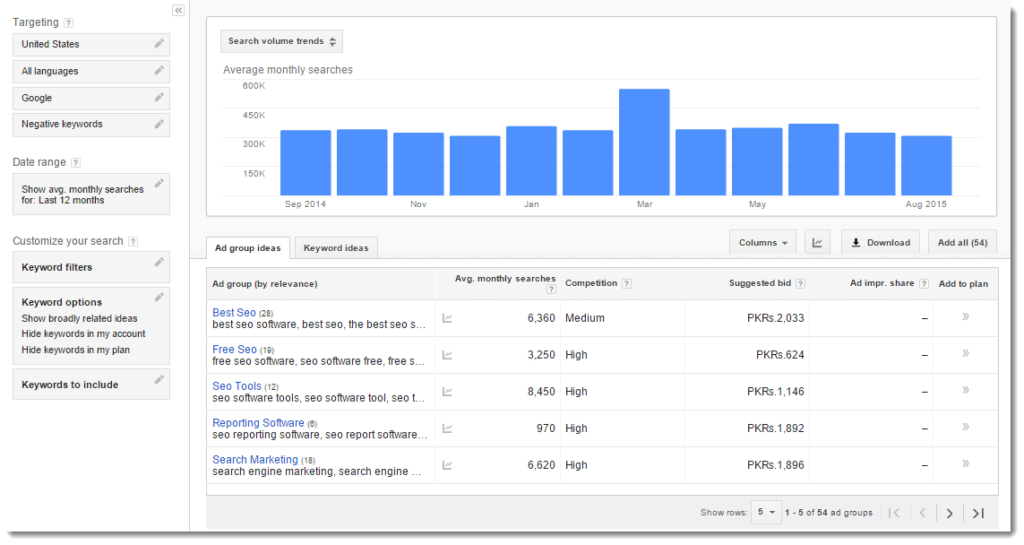 As the popular saying of a younger generation goes – 'Father Google knows everything'. So don't waste your time searching for dubious shortcuts. All you need to do is to ask for a friendly advice, but choose your words carefully.