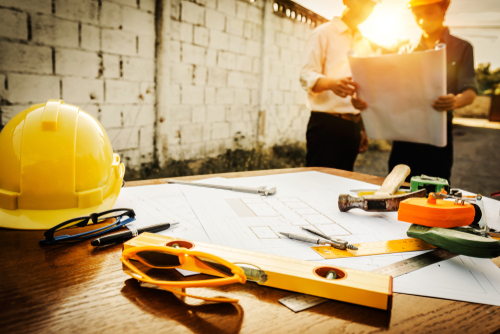 A lead generation business provides other businesses with a client's contact information based on their specific criteria. General contractors usually hire lead generation companies to provide them with qualified homeowners.
Most of these homeowners are no longer doing things offline, and they would instead make use of the internet to find resources. While few general contractors have some online presence, not all of them can effectively convert their website visitors into customers.
If you're thinking of starting a lead generation business for general contractors, here are four tips to help you do it right.
Download Branding Resources Guide
Building a brand starts by having the right tools and advice. Download our top 10 essential tools and resources to kick-start your branding.
1. Always Offer An Incentive
In digital marketing, an incentive refers to an attractive offer or bonus you get after performing a specified action. Based on a study made by Ippei Leads Marketing Service, about 40% of your site visitors will be willing to give out their email in exchange for something of value.
Incentives are also called lead magnets because they can effectively attract leads. Here are some top lead magnets that you can offer to your website visitors:
Checklist – You can provide them with a list of things to consider when remodeling a house or what to look for in a contractor.
Ebooks – Some of you may be thinking that writing one will take a lot of time. That may be true, but you also probably have several blog posts published that can be compiled to form an ebook.
Exclusive content – You can offer an exclusive video or one-on-one consultation with an expert. If you're an expert yourself, then it's going to make things easier for you.
Coupons – You can partner with a known builder's supply chain so you can offer coupons that your web visitors can redeem.
2. Educate Through Blog Contents
Most homeowners start their journey by going online and reading resources, and your blog can be one of those. However, it's not enough to just have a blog. You have to maintain it regularly. Doing so, will not only help your search optimization effort but, establish you as a reliable resource website as well.
Here are some content ideas you can begin with:
Educational articles about home improvement
Local projects you help build
Case studies
Pricing guides
House remodeling project planning
Articles about general contractors
Creating your content around these topics will help you generate leads through organic searches. They may not immediately provide their contact information after reading one of your blogs but, you'll remain top of mind, and that's also important.
3. Make Use Of Social Media
You can use social media as a platform to promote your landing pages and your content. Keep in mind that you don't need to sign up for every social media platforms out there, pick out what's relevant for your niche.
For homeowners looking for general contractors, you sign up on Facebook, LinkedIn, and Pinterest. More importantly, social media may be the most economical way for you to generate leads mainly because it's free to use.
Here is how you generate leads using social media:
Share gated content – Gated content means that they have to give out some sort of information before they can access the content. If the content is interesting enough, they'll click on it.
Advertise – Social media websites like Facebook and Instagram now enables its users to advertise on their platform. You can leverage their data by advertising and targeting your ideal audience.
Host live webinars – You can do live sessions or webinars and while doing the video, direct your viewers to a special gated offer you have. Just be sure that the offer is enticing enough so viewers will click on it.
4. Audit Your Website
There's no use in creating informative blogs, promoting on social media or working on your incentive if your website isn't good enough. For example, if your site or landing pages take time to load, potential leads may abandon it before they even see you're incentive and provide their information.
Audit your website regularly and make sure that the user experience takes into account. More importantly, be sure that you have a responsive website that renders correctly on different screen sizes as more people are becoming mobile.
Conclusion
Generating leads is a lucrative business, but it's an opportunity that doesn't guarantee success overnight. Attracting and collecting leads takes time, but if you follow the things listed here, you'll have no problem generating them. Offer an incentive where it's possible, consistently work on your content and make it better, and be sure that your website is optimized for success.