Year after year, social media see a subtle increase in the number of users, especially Instagram, which now has more than one billion users. It's not a surprise that many companies turn to this popular social media channel to carry on their marketing activities. 
In fact, brands are doing a great job on Instagram; almost 90% of Instagrammers follow a brand on Instagram. 
So, if you run a business and want to promote it on Instagram, you need to have a clear marketing strategy, because the virtual world is wholly different from traditional marketing.  
In the following, I'm going to show you how to employ Instagram to its full potential and promote your marketing campaigns based on the goals you wish to achieve. Here's a graphic to cast a glance at:
Download Branding Resources Guide
Building a brand starts by having the right tools and advice. Download our top 10 essential tools and resources to kick-start your branding.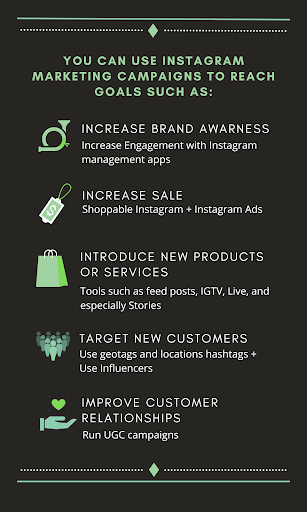 Why is Instagram Perfect for Running a Marketing Campaign?
Instagram tools are free

Instagram marketing campaigns can be easily measured

You have unlimited access to potential customers all over the world

It is suitable for any business

Instagrammers love to consume products and services they find on Instagram
Top Marketing Campaign Goals that you Can Achieve Using Instagram
You may have many reasons to run an Instagram campaign, from announcing your new product to establish a better relationship with your potential customers. The good news is, no matter what your goal is, Instagram can help you achieve it.
#1 Marketing Campaign Goal on Instagram: Increase Your Brand Awareness
Although many businesses use their page only to sell their product and services, Instagram can be incredibly helpful for enhancing brand awareness. 
How can you make your brand more visible on Instagram? Easy; start gaining more followers and start engaging with them. 
You may hire an Instagram manager or use Instagram management apps to cut the expenses. If you don't have any experience using these managing apps, you can try using those that offer Instagram followers trial to see if it meets your expectations. 
#2 Marketing Campaign Goal on Instagram: Increase sale
Instagram Shoppable was a revolutionary feature that the company introduced. If your marketing goal is to increase your sale on Instagram, a combination of Instagram Shop and Instagram Ads can be immensely helpful.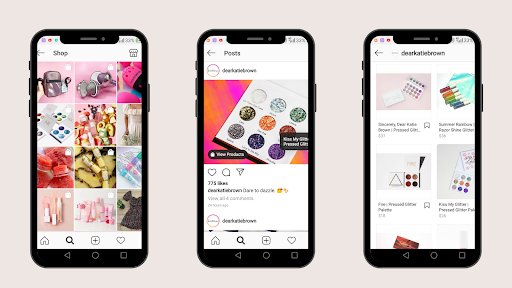 Instagrammers can access to shops in their Explore page and pay for the items on the app, which makes the shopping so much easier. Moreover, you can use Instagram ads to attract specific customers based on age, location, and gender.
To have an Instagram Shop, you need to have a business account and a Facebook catalog. Don't forget that you can only sell goods on Instagram Shop, and not services.  
#3 Marketing Campaign Goal on Instagram: Introduce New Products or Services
You can use Instagram tools such as feed posts, IGTV, Live, and especially Stories, to introduce your new products and services.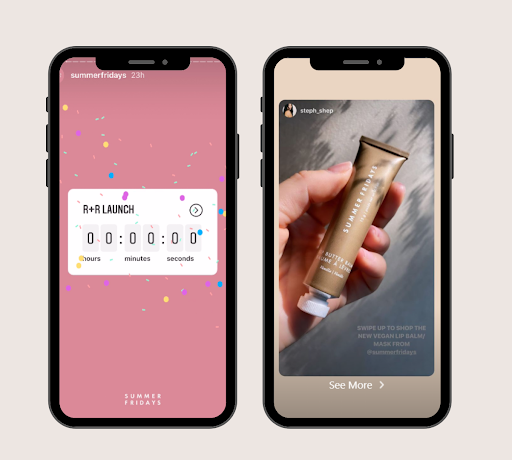 Instagram Stories can be handy as they enable you to be more flexible and funny. You can use a wide range of tools available on Stories, such as a countdown sticker, to gain your followers' attention for the upcoming products' announcement.  
#4 Marketing Campaign Goal on Instagram: Target New Customers
With Instagram, you can focus on finding specific customers. For example, if you want to attract local customers, you can use geotags and locations hashtags that contain your city or neighborhood name. 
Another great way to target a specific audience is to use influencers. Usually, influencers' followers come from particular demographics. For example, a beauty influencer might have more teenage and young women in her audience.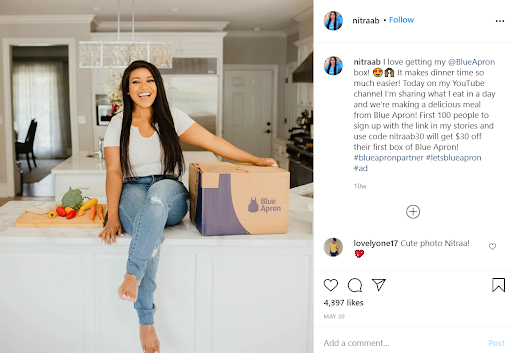 By investing in specific influencers for promoting your less-common products that might have a particular audience, you can save the budget and avoid mass advertisements.
Just be careful about fake influencers! These people use fake likes and followers to show you they have a high level of engagement. Want to spot them? Read this.
#5 Marketing Campaign Goal on Instagram: Improve Customer Relationships
Want to engage your customers with your brand, make them loyal, and even gain the trust of other followers? What is better than running an Instagram user-generated content campaign to do that?
Besides the fact that user-generated content is authentic and considered a free advertisement for your brand on the platform, it can significantly help you with the time-consuming process of content creation.
Many major brands, such as @gopro and @airbnb, constantly run Instagram UGC campaigns to maintain and enhance their engagement with the customers.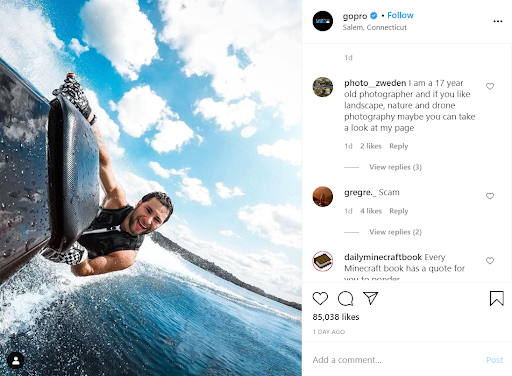 Another great way to improve your relationship with customers on Instagram is by responding to them promptly on the platform. When you publish a post on Instagram, many (potential) customers ask questions about their purchases, new products, or even complaints about an issue they experienced with your brand. It is crucial to answering these queries quickly and with the right language.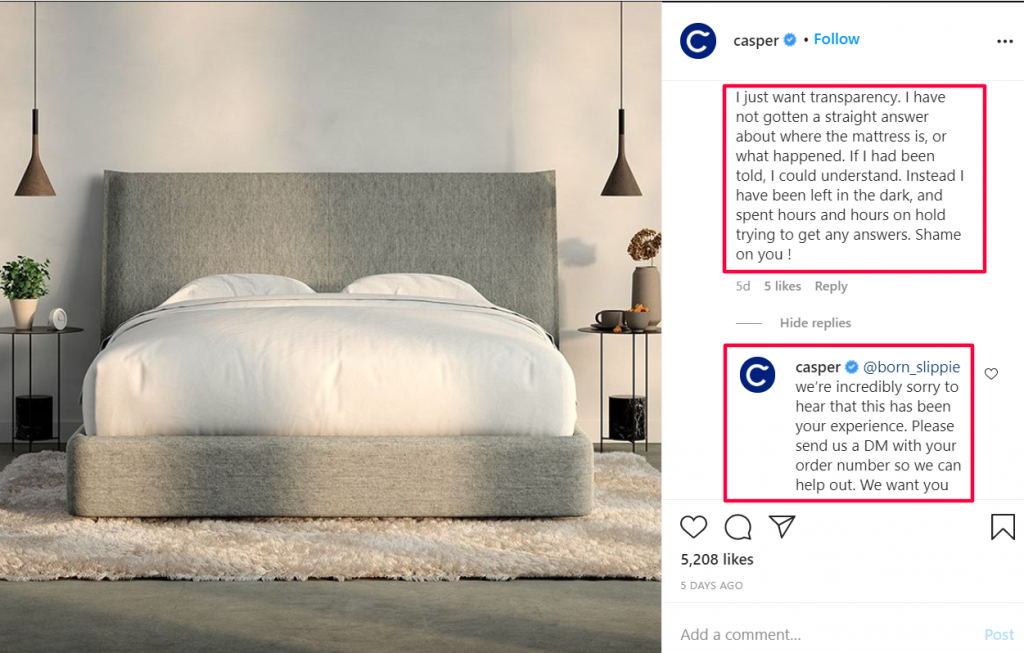 Don't forget that people are more impatient on social media. They expect a reply in less than one hour!   
Final words
An active Instagram marketing can make a massive difference for your business. If managed correctly, the Instagram campaign can help you enter new markets, grow market share, and even improve stakeholder relations.
About the author
I'm Rezvan, a freelance copywriter at SocialPros where I write about Instagram marketing. I'm a Potterhead, resistant to caffeine overdose, and love old songs.