If you're new to the trade, branding is probably the last thing that comes to your mind when you think of organizations that deliver true social impact. However, a well-organized nonprofit branding is crucial to the successful development, functioning, and aim completion of the org.
A strong and reliable brand:
Helps your nonprofit stand out amongst other competitive foundations, so your brand message and efforts to spread your cause gain popularity and reach a large audience.
Grows your nonprofit's visibility, generates support, boosts fundraising, and helps obtain other donations.
Attracts and engages potential volunteers to join your team and contribute to your work and mission.
According to LiveWebinar.com, online seminars are an excellent approach for a present-day organization with modern visions and ideas to manage successful and efficient branding. These web seminars are a low-cost alternative to in-person and events, that help you describe your nonprofit in a more human way to gain attention and help. They offer you a valuable opportunity to reach many people around the world and raise awareness about your cause.
So how to create an impressive and memorable online seminar to promote and grow a nonprofit organization? Check out the following tips and guidance on how to run a successful webinar to boost the progress of a non-business entity:
Download Branding Resources Guide
Building a brand starts by having the right tools and advice. Download our top 10 essential tools and resources to kick-start your branding.
Tell the Nonprofit Story
The primary goal of nonprofit branding is to both convince the mind and touch the heart and thus favor an organization traditionally dedicated to furthering a particular social cause or advocating a shared point of view. So, start the webinar with enticing storytelling about the org while keeping in mind the following tips.
Mind the difference between the personal brand and the brand promise. This way you can best empower the cause for achievements.
Show how you spend funds and donations.
Talk about what are the current obstacles and needs of your organization.
Convince and intrigue the audience to build trust in your cause.
Be sincere and tell authentic statements.
The webinar offers practical methods to justify them with facts and data in the form of diagrams, tables, and graphs. This information, presented professionally, proves to the attendees that your org has a real impact.
Read more from us:
Build Empathy and Emotion via Compelling Content
The webinar serves great for that because it allows you to intertwine the presenter with inspiring multimedia to convey the spirit of altruistic work you and your staff do.
A great way to build empathy is through creating a nonprofit video to explain your mission and to motivate your audience by showing that everyone is valuable and contributes to a cause.
6 Steps On How To Start Your Own Video Production
Increase Your Reach
An aspect of successful branding is to reach as many people as possible, and a webinar is becoming one of the best options for that. There are attendees who already interested in nonprofit activities and willing to register. A great way to further better your funnel is to offer an online course as free training for anybody onboarding the cause.
How to Optimize Your Online Seminar to Attract Even More Participants?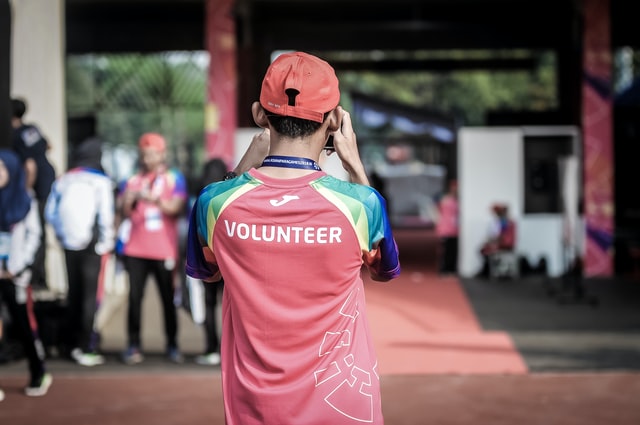 Well, consider leaders or virtual leaders of another organization or individuals competent in your field to take part in the webinar as guest speakers, panel participants, or moderators on a specific topic. This is an innovative approach to grow your nonprofit's reputation amongst a new audience and spark curiosity towards your work.
According to tech professional Antoine Bechara, guest speakers probably have their own audience and if you help him or her to leverage it to the fullest, you can further increase interest in your nonprofit and cause. Always encourage both speakers and viewers to spread the word about your organization. If your message is authentic and right, you'll be surprised by the extent of the results possible!
Choose High-Quality Leads
No matter how many presenters there are, or whether you or someone else runs the webinar, pick a host who is a professional for a successful event and branding.
A qualified presenter:
is aware of the webinar topic and all details related to it;
is intelligent, confident, but not arrogant, and has excellent public speaking skills;
focuses on the goals of the webinar and chooses the most suitable strategy to run it;
carefully lays out the content and doesn't miss important points within the allotted time frame.
Eager for inspiration? Read "Branding Strategies That Can Propel Small Businesses"
Increase the Traffic to Your Website
As an activist of a nonprofit, you probably own a website about the org and the work you do. It's important that you promote your site to increase awareness about your mission. Use the webinar to introduce your website to your target audience.
According to volunteer management experts Volunteer Mark, an online seminar offers you an ideal opportunity to share info, organization details, and how to register and volunteer rights. Direct your viewers to the website and encourage them to share it.
Final Thoughts
So, if you struggle to promote your nonprofit and accomplish your aims, focus on an approach to develop strong branding. It builds a reputation, increases awareness, and helps you raise money. Webinars are a sustainable and efficient way for your brand strategy to reach many people and potential contributors.
Stick to our detailed guide and tips on how to run your webinar to make sure that your nonprofit stand out and make the impact you desire.
Author: Dimitar Karamarinov
Dimitar is an award-winning digital multi-instrumentalist with authorship in a broad range of digital medium and multimedia starting as early as 2006. With over a decade of experience in audio, graphic and motion design, along with various forms of business and communication, Dimitar Karamarinov gains experience with companies of grade Entrepreneur Franchise 500, Inc 5000, and multi-continent companies, along with various charity initiatives under his belt. Dimitar Karamarinov is proactive in appearance on established media such as Forbes, Metro News, CMSWire, BBN Times and more.